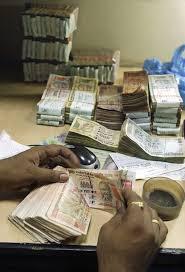 For the time being, the Reserve Bank of India is likely to stick to a range of 58-62 a dollar for the rupee, despite the dollar appreciating against the euro.

This is because the softening global crude oil prices and continuation of gold import curbs are expected to help narrow the country's current account deficit.

On Friday, the euro weakened to a near 14-month-low against the dollar, after the European Central Bank announced a fresh round of stimulus and promised more if required.

Currently, the dollar is trading at 1.29 per euro, compared with the previous close of 1.3.

Typically, when the dollar rises against the euro, the rupee weakens against the dollar.

"We expect RBI to hold the rupee at 58-62 a dollar for now though the dollar has strengthened below 1.3 per euro.

"The impact of a stronger dollar is largely offset by softening of oil prices and the continuation of gold import curbs.

"Swings of $10-a-barrel in crude oil prices have an impact of about $8 billion on the CAD. Restrictions on gold imports will likely contain the CAD at 1.7 per cent of gross domestic product (GDP) in FY15," Indranil Sen Gupta, India economist, Bank of America Merrill Lynch, said in a note to clients.

Easing of geopolitical tension relating to Russia and Ukraine has resulted in Brent crude oil prices falling below the $100-a-barrel
mark.
For the quarter ended June this year, India's CAD narrowed to 1.7 per cent of GDP ($7.8 billion) from 4.8 per cent ($21.8 billion) in the corresponding period last year.
On Monday, the rupee rose to its highest since July, as US jobs data missed estimates.
This mitigated speculation the US Federal Reserve would opt for a planned rate increase.
The rupee closed at 60.3 a dollar, compared with its previous close of 60.41 a dollar.
"The rupee has derived bullish momentum from the downtrend in imported commodity items such as oil, precious and base metals and robust offshore flows into Indian debt and equity markets.
The domestic cues are also supportive on hope of improved macroeconomic fundamentals in the years ahead, setting up long-term bullish expectations from the Indian economy and its asset classes," said Moses Harding, group chief executive officer (liability and treasury management) and chief economist of Srei Infrastructure Finance.
He added given these cues were providing strong tailwinds, the dollar's gain against major currencies, including those of emerging markets, had no impact on the rupee, which had emerged stronger than the dollar and was likely to remain so till domestic optimism was in place.