Chinese companies who were actively pursuing business opportunities in India have adopted a wait and watch approach following the Chinese government clampdown.
Raghavendra Kamath reports.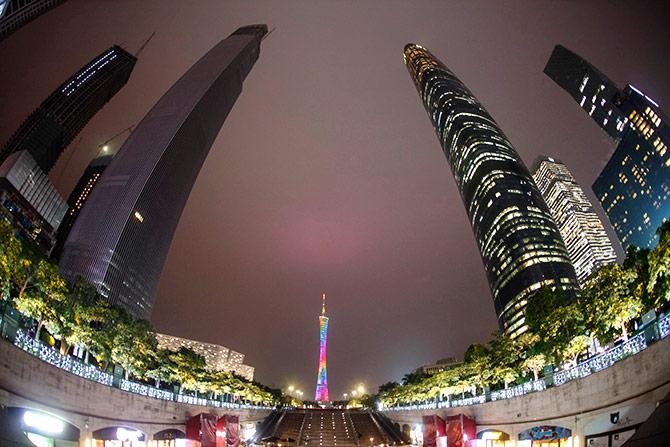 Photograph: Alex Lee/Reuters
Country Garden, China's largest property developer by sales, has put on hold all its Indian real estate investments on hold due to pending approvals from the Chinese government, according to sources in the know.
The Hong Kong Stock Exchange listed company, has signed over a dozen term sheets with multiple real estate developers in different cities in the country, but is yet to go ahead with its plans, said the sources.
A term sheet is the document that outlines the terms by which an investor will make an investment in a company.
Country Garden has put together a team of over 100 people in Mumbai and national capital region and other cities to run its operations, sources said.
Country Garden recently forayed into London as well with a housing project in East London.
As regards to India, reportedly the company was in an advanced stage of discussions with the Mumbai-based Wadhwa Group to pick up stakes in three to four residential projects in the city, including an upcoming 450-acre township at Panvel.
Similarly, the company also signed an initial deal with a Thane-based developer for a big real estate project, but there has been no progress on the said project, say sources.
Again, according to industry sources, Country Garden was close to signing a deal with TVH, a Chennai-based property developer, to buy a land parcel in Chennai and develop a project. This project is also yet to materialise.
When contacted, a Country Garden spokesperson denied market rumours. A mail sent to the Wadhwa group did not elicit any response. And TVH could not be reached for comments.
"They are bullish on India and continue to have a positive approach towards the market. I think the Chinese government has not given them a go ahead which is holding them back. But they very much have their staff in the country," says a senior executive with a real estate developer.
In August last year, China laid down rules restricting overseas investments, stepping up its campaign against what it described as 'irrational' acquisitions of assets in industries ranging from real estate to hotels and entertainment.
"The investment norms are much clearer now compared to last year," says Shishir Baijal, chairman, Knight Frank. "There are clear cut rules on how much money companies will spend abroad and in real estate. The option of automatic route to invest does not exist anymore."
Other Chinese companies such as the Wanda Group, China Fortune Land Development Co and Fosun, who were actively pursuing business opportunities in India until last year, have also adopted a wait and watch approach vis-à-vis their investment plans following the Chinese government clampdown.
In 2016, China Fortune Land Development Co signed a memorandum of understanding with the Navi Mumbai planning authority, Cidco, to build townships. CFLD was also looking to build townships and city infrastructure in other parts of Maharashtra.
According to sources in Cidco, the project got stuck as CFLD did not show interest.
Earlier, Chinese conglomerate Dalian Wanda Group's project with the Haryana government got stuck due to differences over equity sharing.
Wanda did not want to give more than 9 per cent share to the state government while the latter wanted 26 per cent stake in the project.
Wanda planned to invest $10 billion in the construction of five industrial and theme parks, besides shopping malls.
Kindly note: The lead image has been published only for representational purposes.