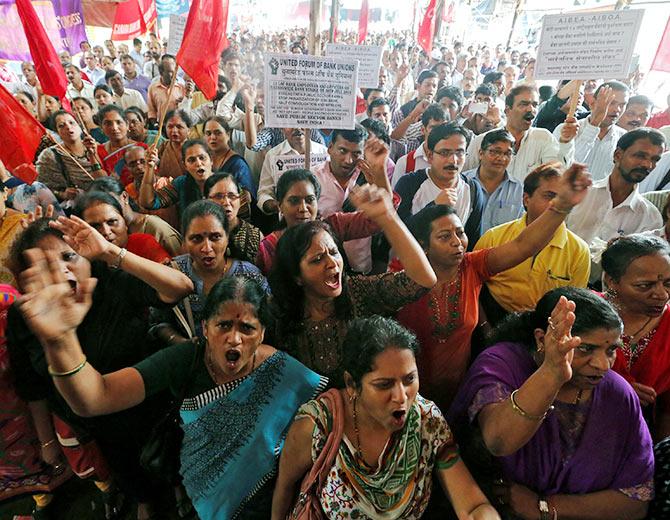 Image: A file photograph of bank employees protesting the government's proposal to merge the State Bank of India's associate banks with SBI, and against the government's proposed move to privatise IDBI Bank. Photograph: Shailesh Andrade/Reuters.
Banks Board Bureau chief Vinod Rai has proposed performance-linked incentives for bank employees, but the staff unions are dead against the idea. A Ganesh Nadar reports.
Earlier this month the chief of Banks Board Bureau, Vinod Rai, proposed a performance-linked incentive for public sector banks, saying that the compensation package across the board of public sector banks needs to be improved.
"Maybe we are not able to do much with the fixed part of compensation package but variable part we are hopeful that in the next financial year we will be able to introduce a far more attractive package which do have bonuses, ESOPs and other performance-linked incentives as part of the package," Rai had said.
But very clearly, he had spoken too soon. For bank unions across the country have shot down his proposal.
The All India Bank Officers' Confederation, in a statement, said this move was a prelude to introducing differential pay as also the concept of cost to company at a later stage
"Setting performance parameters at various levels of banking functions does not fit well into the banking environment as there are multiple functions for a few and specialist functions for another lot," AIBOC general secretary Harvinder Singh said.
Vice president of the National Organisation of Bank Workers Ashwini Rana said there were certain jobs in banks whose tangible gain cannot be measured especially assisting staff, and the introduction of performance linked incentives will lead to inequality, favouritism and discrimination.
The office-bearers of State Bank of India staff union in Pondicherry and Tamil Nadu, too, have rejected this idea totally. SBI is the largest bank in India.
Union president S M Selvaraj, vice president S Gunasekhar and general secretary D Singaravelu spoke at length about their fears and what the proposal meant to the members of the union.
Singaravelu was emphatic that giving incentive to one person would demoralise the rest of the staff.
"First they give lots of loans to get incentives and then let the loans become NPAs. Then they expect incentives for collections. This will be a loss-making exercise for the banks," he told this correspondent.
Selvaraj said, "If they must implement this scheme, then it has to be given to the entire staff in a well-performing branch, because banking is a collective job."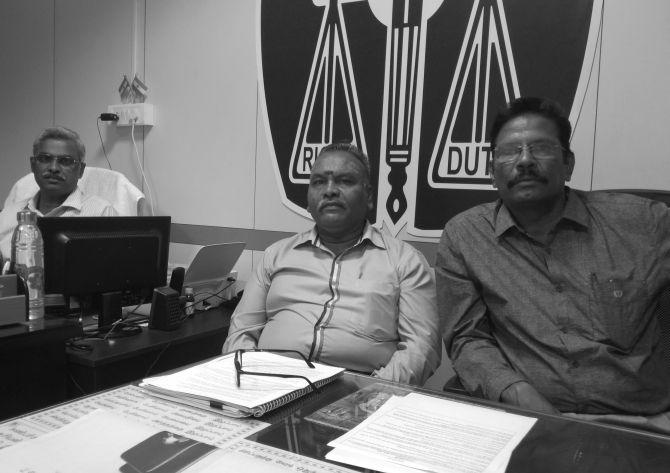 IMAGE: The office-bearers of State Bank of India staff union in Pondicherry and Tamil Nadu. Photograph: A Ganesh Nadar/Rediff.com.
Gunasekhar added, "A few years back, when we were losing business to private banks, the management approached the unions and asked us to help them with marketing and to improve our market share. We worked hard and achieved our goals. Today we are the biggest bank in the country. Now they are bent on weakening us by dividing the workforce."
He explained: "Worldwide, performance is judged on a 70-20-10 basis where 70 is for experience, 20 is for feedback and 10 is for learning. This is how capacity-building is done. Here in SBI they have made it 70-30 where 70 for performance is decided by the system and 30 depends on the whims and fancies of the branch manager. This will lead to favoritism and destabilise the unions.
"Do they realise that the promotion one gets after 10 years can be brought down to eight years by this scheme? That means the favourites of managers will get promoted over seniors.
"Even superannuation, which is now at 60 years, will be linked to this and if they are not happy with you, they can use health as an excuse to terminate you at 58 itself. The last two years of your service can be cancelled depending on your performance."
Selvaraj said, "They are trying to reduce the influence of staff unions. That is their only aim. As the Indian Banks Association has opposed this, the State Bank of India and Punjab National Bank have come out of the IBA to implement this proposal."
He repeated, "We are totally against individual incentives, it must be given to the branch."
"There is no transparency in the marking system, who is getting the incentive and why he is getting it, nobody knows. Only a collective incentive will strengthen the institution."
All three office-bearers signed off saying, "We oppose this career development system totally. If you still want to give it, give it collectively."