In markets such as Mumbai, prices have gone beyond Rs 1.5 cr to Rs 2 cr which is beyond reach of most of the salaried class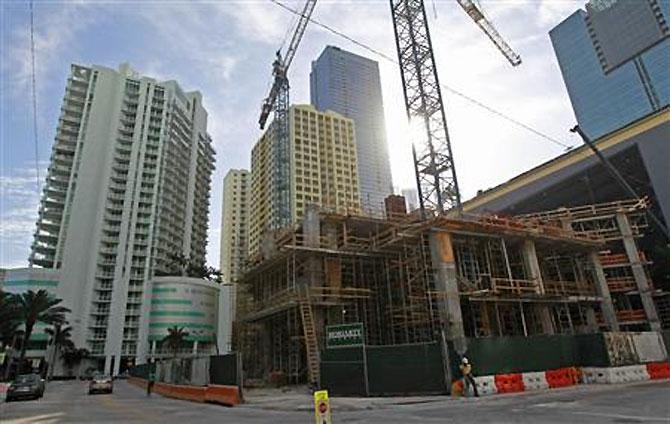 Both buyers and investors alike are getting out of property markets.
While sharp property price rise in 2011 and 2012, in the aftermath of economic slowdown has kept buyers out of the property market, the marginal price rise in properties in 2013 and 2014 has made even the investors shun residential properties, say brokerages and consultants.
For instance, property price in national capital region in 2012 had gone up 22 per cent and even stable market like Bengaluru had seen 15 per cent increase in home prices, according to real estate research firm PropEquity.
Hariprakash Pandey, senior vice-president, finance and investor relations at Mumbai based developer HDIL,says in markets such as Mumbai, prices have gone beyond Rs 1.5 crore (Rs 15 million) to Rs 2 crore (Rs 20 million) which is beyond the reach of most of the salaried class.
"If you take a loan of Rs 1.5 crore, you have to pay an EMI of Rs 150,000. For that you should have a monthly income of Rs 400,000 to Rs 500,000," he says.
Says Amit Bhagat, chief executive of ASK Property Investment Advisors, a private equity fund manager, says houses in the price range of Rs 50-Rs 75 lakh in Pune, Bengaluru, and Noida are selling well. "You do not get such properties in Mumbai or Gurgaon," Bhagat says.
High prices and lack of affordability has pushed Mumbai to register highest number of unsold units in the country, about 200,000 as of December 2014.
According to PropEquity, barring Bengaluru, the absorption of residential units has been lowest in 2014 in the top six cities.
Property Developers say economic reasons are also equally responsible for slowdown in the property markets.
"Economy has slowed down between 2008 to 2014 which has reduced the demand for properties. People have lost their jobs, got no salary hikes which have reduced their propensity to buy homes," said Rajeev Talwar, executive director at DLF, the country's largest developer.
Units unabsorbed
| | | | | | | | |
| --- | --- | --- | --- | --- | --- | --- | --- |
| | BENGALURU | PUNE | MMR | CHENNAI | HYDERABAD | KOLKATA | NCR |
| 2011 | 41,888 | 52,947 | 101,122 | 30,634 | 18,925 | 16,015 | 104,083 |
| 2012 | 51,034 | 56,842 | 95,610 | 33,513 | 20,974 | 16,703 | 88,904 |
| 2013 | 60,198 | 50,950 | 85,788 | 29,141 | 20,758 | 16,040 | 82,336 |
| 2014 | 56,099 | 42,578 | 65,994 | 20,915 | 14,489 | 12,163 | 39,022 |
Talwar says people are giving preference to buying small ticket items such as vehicles, durables or marrying off their children and renovating existing houses than buying properties.
Talwar is right.. The inventory pile up with developers has risen exponentially with National Capital Region (NCR) expected to take 13.8 quarters to sell its unsold inventory and Mumbai will take 11.5 quarters. Bengaluru needs seven quarters to sell its inventory.
Talwar says luxury projects like Lodha's World One, Raheja's Vivaria in mumbai are doing well. "Only lower rung of projects are hit," he says.
The marginal price rise in residential properties have also kept investors out of property market.
According to international brokerage CLSA, residential unit sales in the top eight cities declined by 14 per cent on yearly basis in 2014, while average residential property prices across the seven biggest cities rose by only two per cent Y-o-Y basis.
"This lack of capital appreciation has reduced the incentive to buy, most particularly for investors at a time when residential rental yields are only 2-3 per cent against around the 10% debt servicing cost of a mortgage," CLSA said in a recent note.
Ashwinder Raj Singh, chief executive officer, residential services at JLL India says investors have inventory but liquidity is low in the market. "Once that inventory starts selling in 24 to 36 months, things will pick up," he Singh says.
According to estimates, Gurgaon properties have 65 to 70 per cent investors while Southern and Western Mumbai has 50 per cent investors.
Average Price of absorption
| | | | | | | | |
| --- | --- | --- | --- | --- | --- | --- | --- |
| | BENGALURU | PUNE | MMR | CHENNAI | HYDERABAD | KOLKATA | NCR |
| 2011 | 3,181 | 3,615 | 5,511 | 3,716 | 2,781 | 2,995 | 3,377 |
| 2012 | 3,653 | 3,855 | 5,814 | 4,024 | 2,979 | 3,303 | 4,121 |
| 2013 | 3,901 | 4,286 | 6,613 | 4,155 | 3,175 | 3,447 | 4,191 |
| 2014 | 4,280 | 4,620 | 7,280 | 4,412 | 3,399 | 3,790 | 4,261 |
CAGR
Source: PropEquity