According to analysts, IT firms like Infosys, TCS and HCL Technologies are likely to benefit the most on account of larger US exposures and dollar billing.
Illustration: Uttam Ghosh/Rediff.com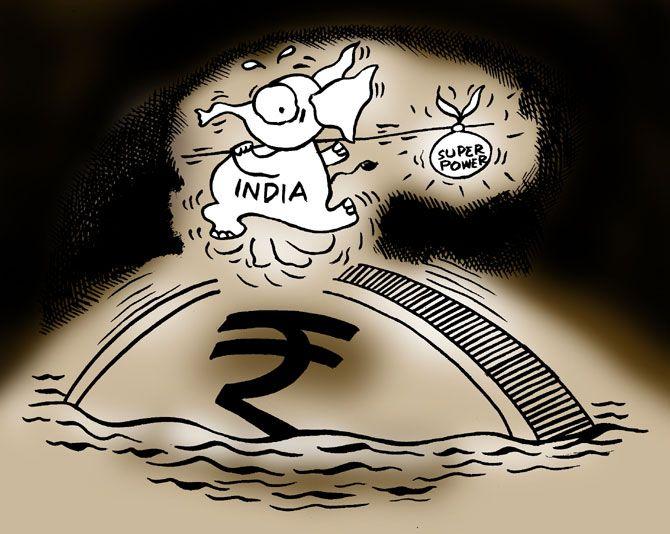 Depreciating rupee against US dollar in recent months can prove to be a boon for the domestic IT firms which are otherwise facing margin pressure owing to a challenging operating environment.
The Indian currency has fallen by more than four per cent from the beginning of this financial year.
Market experts and company officials are of the opinion that a depreciating rupee augurs well for all exporters including domestic software services firms.
According to them, profit margins will get supplemented as a strengthening dollar will translate into higher Rupee value for these firms.
However, the gain won't not be uniform across the companies as hedging approach of different companies will determine their extent of forex gain.
Usually, 30 per cent of the total bills receivable of domestic IT firms are hedged.
Further, as forex gain is a combination of three factors namely rupee hedging gain, realised gain and MTM (mark-to-market) gain/loss, and how much a company will receive as forex gain will depend on its hedging policy.
"Certainly, falling rupee will help all exporters including the IT services firms. But, the extent of benefit that will be accrued will depend on the onshore and offshore business mix of individual companies," Jatin Dalal, chief financial officer of Wipro Ltd told the Business Standard.
The Indian currency, which was at Rs 65.07 per dollar on April 1, 2018, is currently trading at around Rs 68.20 level per dollar.
This sharp fall is majorly attributed to concerns over rising current account deficit due to spike in crude oil prices apart from impending interest rate hikes by the US Federal Reserve.
Similarly, rupee has depreciated by more than 8 per cent from the beginning of the calendar year.
"Recent rupee depreciation will definitely mitigate a lot of headwinds faced by the domestic IT firms. Also, these firms may witness cross-currency boost owing to strengthening of dollar against all major currencies," said Sanjeev Hota, IT analyst with brokerage firm, Sharekhan, a BNP Paribas company.
Quantifying the margin expansion, Hota said domestic software services firms, usually witness 25-40 basis point margin boost depending on the business mix.
"Whether the margin boost will reflect on the Profit & Loss account or not, will depend on the company as many firms can reinvest that money on the business," Hota said adding that part of the earnings due to cross-currency benefit may go into investment in digital space.
According to analysts, IT firms like Infosys, TCS and HCL Technologies are likely to benefit the most on account of larger US exposures and dollar billing.
More than 80 per cent of their total business come from overseas markets which are billed in currencies other than rupee.
"Sliding rupee had translated into margin expansion for domestic software services firms in the fourth quarter of last fiscal. We also see such margin boost in the first quarter (April-June) of this fiscal on unhedged exposure," Gautam Duggad, head of research of Motilal Oswal Securities said.
He, however, said that it would be difficult to quantify the exact margin boost to a company as margin expansion would depend on a host of other factors.
"We see rupee at the current levels for some time, which will reflect in this quarter's P&L account," Duggad added.
In the quarter ended March 31, 2018, TCS, India's largest IT services company posted a 20 basis point expansion in its operating margin in sequential basis at 25.4 per cent while for FY19 the company expects this to be in the band of 26-28 per cent.
Similarly, Infosys's operating margin at the end of March quarter (Q4FY18) stood at 24.7 per cent, an improvement of 40 basis points over the previous quarter aided by currency benefits and lesser selling, general and administrative expenses.
The Bengaluru-headquartered company however expects its operating margin in FY19 to be in the range of 22-24 per cent, as it is looking at making investments in enhancing digital capabilities, reskilling of people and expanding operations in global locations.