Start-up Belong.co uses an unconventional way of hiring that relies more on data available on social media or tweets than the resume.
IMAGE: Vijay Sharma, BITS Pilani alumnus and cofounder of Belong.co. Photograph: Kind Courtesy @BelongCo/Twitter.
Prateek Pai (name changed), a 31-year-old information technology professional, would have reasons to bask in his professional glory if he alights at the top floor of the office building of Bengaluru-based recruitment start-up Belong.co.
Surprisingly, he does not know the glass-fenced meeting room in an otherwise flat office floor is named after him, to mark that both he and his employer have found the right match.

Pai now belongs to his workplace, thanks to an unconventional way of hiring that relies more on data available on social media or tweets than the resume.

Unlike other recruiting firms, Belong believes good candidates hardly apply against job boards. Rather, they need to be found using data available publicly on social media.
Founded by BITS Pilani alumnus Vijay Sharma and Sudheendra Chilappagari in 2014, the start-up uses big data analytics to help organisations get the right talent at a lower price.

Concept

"Public data help us understand a person beyond the so-called resume. True information is really important. The Internet does a beautiful job of creating transparency," says Vijay Sharma, co-founder, Belong. The start-up has raised $10 million in February from Sequoia Capital in Series-B, after the first round of funding worth $5 million from Matrix Ventures, Blume Ventures in June 2015.

Sharma says the career page on a company's website may soon become passé. "The way recruiting is evolving people may no longer apply against job boards or through agencies in future. One has to use a platform, which is slightly new age to go out and sell the enterprise to the people," points out Sharma.

While the mid- and top-level recruitment process incurs a significant cost for companies, some often end up getting talents not fit for the purpose. In fact, there have been examples of senior employees quitting in a matter of months in the recent past. Analysts say many turned out to be misfits.

Belong's remedy is: Authentic data and a track record of people based on social media activities, past work experiences and so on. Based on a pay-as-you-use subscription model (software-as-a-service), the firm caters to customers through two key products -- Belong Hire and Belong Experts -- for an end-to-end solution.
The third product, Belong Talent Map, creates a "talent landscape report" which can be used by customers at a price.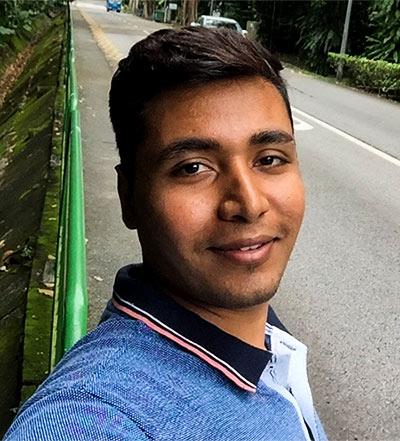 IMAGE: Sudheendra Chilappagari, cofounder of Belong.co. Photograph: Kind Courtesy: @webaficionado/Twitter.
Opportunity

Outbound data analytics-based hiring is new. Sharma, along with other co-founders, looks forward to a strong growth opportunity in the $1-billion recruitment market.
Only one-tenth of the market is dominated by online recruitment agencies like Naukri and Monster.com. "The company has scaled up well since our early seed investment," says Tarun Davda of Matrix Ventures. It now works with some of the marquee brands, including Amazon, Cisco, Ola, Practo, SAP and Thoughtworks.

Unlike pure need-based recruitment, it is becoming critical to understand candidates and their aspirations before making an attractive offer. The platform provided by Belong seems to have addressed this issue as it focuses on candidate 'personalisation' over a reactive approach.
"Vijay understands recruitment and has experienced the problem first-hand while building the team at his earlier start-ups. He understands often the decision to hire a candidate is influenced more by factors outside the resume," says Davda.

'Future of hiring is Belong-ing'

The start-up has created a "tough" category in the recruitment industry despite using processes. It sees a challenge to educate an industry on the need for data science to hire the right talent.
"Every time a candidate goes through a bad experience, there will be five people who will not like the experience. Multiple effects are crazy, especially in the social media... I think we have a bigger task to educate the industry that outbound hiring is extremely important today," points out Sharma.

He says it is time organisations realised a candidate's experience is as important as the cost per hire. Experts say the firm seems to be talking about a solution where the employee belongs to the workplace or organisation.

Since the firm raised Series-A funding, it has doubled the number of mid-market and enterprise customers. Belong currently has 80 customers and two of them are in Indonesia. Sharma says the firm should achieve profitability in two years.

"I believe the core platform they have built is among the best. Belong's unique selling point is: 'Faster time to hire' and 'lower cost of hire', relative to other hiring channels. This is the result of Belong's Search Relevance being at 60 per cent against industry standard of 20 per cent," adds Davda.

Expert take: The massive opportunity is obvious, but innovation is key

Sunil Padmanabh, independent advisor, enterprise application and digital transformation, says:

The solution is based on a SaaS model that provides cost advantages and flexibility for scaling up. Also, the SaaS model for talent management is fairly mature and well adopted by the HR community.
The challenge, however, is to build a strong partner ecosystem to keep pace with the established vendors in this space. Organisations with diverse workforce can effectively use this platform to rapidly recruit the right candidates.
The market for platforms or tools for predictability on outcomes in focused hiring is rapidly growing. While the SaaS-based recruitment space is overcrowded, those who differentiate themselves by providing predictable outcomes have an edge.

They have disrupted the traditional recruitment space by diligently leveraging the social media tools. The focus is to be proactive in tapping good talent who are not actively pursuing a job change. Understanding the potential candidate's attributes beyond the resume and mapping the personna to job descriptions has been a challenge for recruiters.

They should look at extending the predictive analytics capability beyond recruitment to the lifecycle of employee engagement. Focus on improving accuracy with algorithms that can provide predictable outcomes for hiring and retaining talents. They need to provide flexibility to use this platform as a 'plug and play' with leading SaaS-based talent management systems.