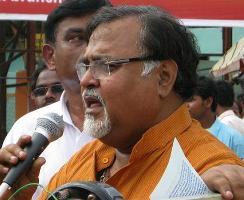 Extending an apparent olive branch to the Tatas whose small car project in Singur had been bitterly opposed by Trinamool Congress, a senior party leader and West Bengal minister on Tuesday said the company has 'love for the people' and the government wanted it to expand its business in the state.
At the same time, he hoped that the Tatas would be 'pro-active' in the resolution of the Singur imbroglio, an apparent hint to TMC's plea for return of land to unwilling farmers.
"Tatas are a very big industrial house. They have big projects in the state. They (Tatas) have love for people.
"We hope that they would be pro-active in the resolution of the Singur problem," state Education Minister and Trinamool Congress secretary-general Partha Chaterjee, who had recently advocated out-of-court settlement on the Singur issue, said.
"Tatas are welcome in Bengal.
"We want them to expand their business in the state. We never had any fight with the Tatas.
"The only difference between us was in the process of acquisition of land at Singur," Chatterjee, who is also the state's Parliamentary Affairs minister told PTI.
Chatterjee's comment comes a day after various Tata Group companies said they would expand many of their existing projects in the state after their senior executives held a meeting with Chief Minister Mamata Banerjee on Monday and informed her about their plans to do so.
On September 25, Chatterjee, a close aide of West Bengal Chief Minister and TMC chief Mamata Banerjee had said the Tatas should go for out-of-court settlement with the state government.
"Only then it will be possible for us to give back land to the unwilling land-losers," he had said.
The hearing in the Singur case in Supreme Court is scheduled for next month.
State Finance and Industry Minister Amit Mitra on Monday said the Tata Group was keen on expanding many of their existing projects in the state and creating more employment opportunities.
The Tata Group has provided employment to nearly 30,000 people in the state under various projects and would offer more in the near future, he added.
A Tata group executive Rana Sinha had said 'forget the issue of the past and target the future", when asked on Monday to comment on the experience of shifting the Nano car plant from Singur to Sanand in Gujarat in 2008.
Image: West Bengal Education Minister and Trinamool Congress secretary-general Partha Chatterjee