Although Walmart-Flipkart wholesale game-plan is to target about a $150 billion market out of a total pie of $700 billion in the country, the consolidation marks the end of the multi-brand dream of the American retail giant.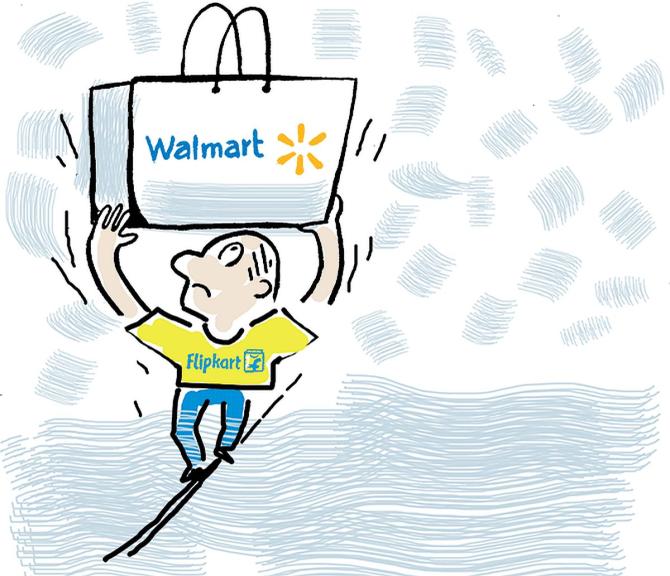 When Walmart India held a town hall meeting at its Gurugram headquarters on July 23 to announce a reverse merger with Flipkart, some 4,000 employees were taken aback by the group's consolidation move during the pandemic.
Although this deal had been in the works after the American retail major Walmart acquired a majority stake in Flipkart for $16 billion in 2018, the timing of the announcement was unusual when a large part of the organisation is still working from home due to Covid-19.
But as an analyst pointed out, businesses often take critical steps in extraordinary times.
The two immediate trigger points that may have fast-tracked Flipkart's acquisition of Walmart India, which operates Best Price Mo­dern Wholesale (cash-and-carry business), are Reliance Retail-owned Jio­Mart's aggressive play in e-grocery and the falling appeal of physical stores post-Covid-19.
But more than anything else, it's long-term business sense and an aspiration for higher valuation that prompted the Bentonville-based retail giant to consolidate its loss-making Indian wholesale business (Best Price) with the e-commerce operation of Bengaluru-based Flipkart, say people close to the development.
Bringing B2B and B2C businesses under one umbrella will not only boost Flipkart's ambition of starting an online wholesale operation, but it is also seen as a move to help the start-up founded in 2007 strengthen its balance sheet and valuation before a public listing.
A company source confirmed that the latest consolidation would give Flipkart a definite fillip for an initial public offering (IPO) planned for 2022 at a global exchange, preferably the US.
In the run up to the international listing, Flipkart would logically take steps to boost its valuation, an executive pointed out.
From close to $21 billion in 2018, the firm's valuation rose to almost $25 billion recently when Walmart Inc led an investment of $1.2 billion in Flipkart.
Internal assessments suggest Flipkart group's valuation at around $35 billion, if Phone Pe (fully owned by Flipkart) is counted.
With Walmart Best Price joining the bouquet, the valuation should be even higher (the financial details of the latest transaction were not made available).
But there could be some hurdles to the dream IPO.
Let's look at the current wholesale business of Wa­lmart India, which has accumulated losses of Rs 2,181 crore (up to March 2019).
It runs 28 Best Price stores across the country catering to 1.5 million members who are typically small businesses, including kiranas or mom and pop stores.
After 12 years of operating the wholesale business - till recently only through the brick-and-mortar stores and subsequently adding online - physical store expansion will slow down substantially.
In fact, the company is looking at only opening those stores, which are in the planning stage.
No closures are being talked about at this point, some of the physical stores may be converted into fulfilment centres and warehouses for the merged Flipkart business.
There would also be uncertainties in roles of the Walmart India employees, including senior executives.
The actual transition will begin at the end of this year when the Gurugram office shifts to Bengaluru.
In January, Walmart India had let go of 100 senior executives, perhaps as a precursor to the consolidation.
Officials said at this point, no downsizing has been planned.
To allay employee fears, Kalyan Krishnamurthy, chief executive officer (CEO) of Flipkart Group, had said last week, "The acquisition of Walmart India adds a strong talent pool with deep expertise in the wholesale business that will strengthen our position to address the needs of kiranas and MSMEs."
It's another ma­tter that Flipkart veteran Adarsh Menon will spearhead the wholesale venture, while Walmart India CEO Sameer Aggarwal will move to another role.
Although Walmart-Flipkart wholesale game-plan is to target about a $150 billion market out of a total pie of $700 billion in the country, the consolidation marks the end of the multi-brand dream of the American retail giant.
It entered India in 2007 in partnership with Bharti Enterprises in the midst of high-decibel protests against the American retailer wanting to wipe out kirana businesses.
Walmart could never open multi-brand stores, as it did in the US and other parts of the world, to sell its products to the Indian masses, even though the United Progressive Alliance (UPA) government permitted it with a 51 per cent FDI limit.
Guidelines such as mandatory sourcing from Indian MSMEs and statutory backend infrastructure acted as hurdles for overseas players.
The UK's Tesco was the only player to apply and get approval for multi-brand under the UPA rule, but it never expanded after the National Democratic Alliance government opp­osed FDI in retail when it came to power at the Centre in 2014.
Walmart has been on its own in the wholesale business ever since it parted ways with Bharti in 2013 over differences in running the India business and an unhelpful regulatory environment.
Scott Price, then Walmart Asia CEO, had famously said on the sidelines of a Bali summit, "We created a franchise in retail with Bharti in the hope that there could be a potential freeing up (of FDI) that would allow it to potentially be the base of the business. But frankly, the FDI (opportunity) has passed."
The proverbial seven-year itch after going solo has ended and Walmart India is about to tango with Flipkart in wholesale.
With online being the future and the pandemic changing shopping patterns, e-commerce - which now has single-digit market share in the country - may change the landscape for the American major as it competes with Jeff Bezos' Amazon and Mukesh Ambani's Jio.