Long products demand growth is expected to be sharp, supported by a demand push from the government-led infrastructure investments in affordable housing, railways, rural electrification and road networks.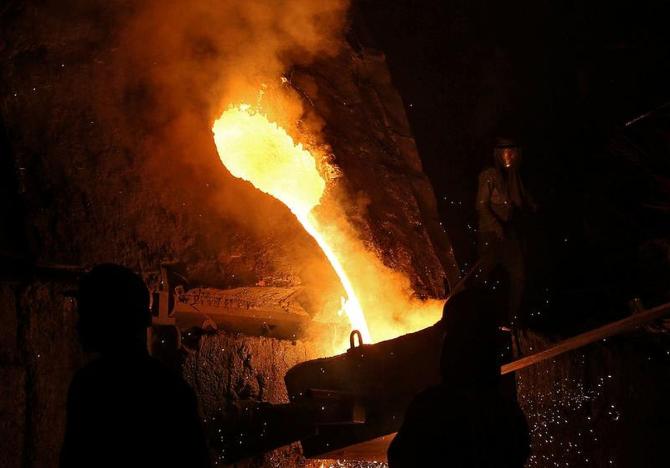 Compared to some of the stressed steel assets that went under the hammer under the Insolvency and Bankruptcy Code (IBC) since 2018, the 1.1-million tonne Neelachal Ispat Nigam Ltd (NINL) with its facilities in Kalinganagar, Odisha, is a minnow of sorts.
But by the close of March 29 — the due date for submission of expression of interest (EOI) for its strategic sale — NINL had drawn interest from all the big boys of the industry, JSW Steel, Tata Steel (through Tata Steel Long Products), ArcelorMittal Nippon Steel India (AM/NS India) and Vedanta-owned ESL Steel.
There could be others, too.
The government had set the ball rolling on January 8, 2020, when the Cabinet Committee of Economic Affairs (CCEA) gave an in-principle approval for strategic divestment of 93.71 per cent held by central and state public sector units (PSUs).
MMTC is the major shareholder with a 49.78 per cent holding, NMDC has 10.10 per cent, MECON and BHEL 0.68 per cent each and two Odisha government entities — Industrial Promotion and Investment Corporation of Odisha Ltd and Odisha Mining Corporation — have 12 per cent and 20.47 per cent, respectively (the remaining 6.29 per cent is mostly with institutional investors).
A request for EOI was floated on January 25, 2021, and at the end of the cut-off date for submission, secretary, DIPAM (Department of Investment and Public Asset Management) tweeted that multiple expressions of interest had been received for privatisation of NINL.
"The transaction moves ahead to the second stage, on schedule," the tweet added.
In FY20, NINL recorded a loss of Rs 1,758.05 crore on total income of Rs 949.03 crore.
But operations have been declining for years and the company has been in losses from FY 2013.
Yet, for bidders, it could well be a diamond in the rough.
NINL's biggest draws are its land and mines; the plant is about 120 km from Paradeep sea port, making it an added sweetener.

The total land area leased to the 1.1-million tonne pig iron and billets maker is around 2,500 acres.
What kind of expansion opportunities are possible on that land?
To put it in perspective, Tata Steel's 11-million-tonne plant at Jamshedpur (Jharkhand) — one of the largest single location steel plants in the country — is on 1,800 acres.
Additionally, NINL has been allotted an iron ore mine in Sundargarh and Keonjhar district of Odisha, with an estimated mineable reserve of around 90.91 million tonnes; the mining lease is valid till 2067.
As information memorandum prepared for the strategic sale points out, the Odisha government recently re-auctioned iron ore mines at high premiums of up to 150 per cent.
Iron ore is a key input material for steelmaking and having a captive resource is a huge advantage.
A report by MECON has pegged NINL's valuation at Rs 8,271.46 crore, which includes Rs 2,500 crore of land and Rs 2,487.27 crore of mines.
Land and mines have been the major stumbling blocks for expansion by steel companies.
That's one of the main reasons stressed steel assets auctioned under IBC witnessed a rush of interest from Indian and foreign companies.
In 2018, Tata Steel acquired Bhushan Steel (now, Tata Steel BSL), JSW Steel; AION jointly acquired Monnet Ispat & Energy (renamed JSW Ispat Special Products); Vedanta acquired Electrosteel Steels (now, ESL Steel) in 2019; ArcelorMittal and Nippon Steel jointly acquired Essar Steel (now, AM/NS India) and recently, after a long-running insolvency resolution process, JSW Steel completed acquisition of Bhushan Power & Steel (BPSL).
The assets were on the Reserve Bank of India (RBI's) first list of large non-performing assets (NPAs) mandated for resolution under IBC.
Explaining the interest in stressed steel assets, one of the bidders for NINL said, "Inorganic opportunities are few in India and greenfield projects take a lot of time."
Pre-IBC, acquisitions in the steel space were few and far between. Among the more notable ones were: JSW's acquisition of Siscol (2004) and Ispat Industries (2010).
More recently, Tata Sponge (now, Tata Steel Long Products) acquired the steel business of Usha Martin in 2019.
ICRA senior vice-president Jayanta Roy says the long-term domestic demand outlook for steel is favourable.
"Therefore, it is logical that players with a healthy financial position would want to acquire assets," he says.
More so, when the steel sector is in an upturn with prices at multi-year high; since July last year, prices have increased by about 41 per cent in the domestic market.
Analysts are predicting a sharp growth in FY22, as well, for flat and long steel.
India Ratings expects long products demand growth to be sharp, supported by a demand push from the government-led infrastructure investments in affordable housing, railways, rural electrification and road networks.
That should augur well for any company that bags NINL, which is into long steel.
The big boys of the alloy, who so far focused on value-added flat products used in automobile and consumer durables, are now looking to step up their exposure in long products (used in infrastructure and construction), as two-third of the production is controlled by the smaller secondary producers.
The current boom in steel, however, bypassed NINL as all facilities of the company have been shut since March 2020.
Ajit Pradhan, general secretary, Neelachal Executive Association (NEA), says that promoters met in March and decided to stop funding in the wake of strategic divestment.
NINL operations have been on the slide for a while now. Its main facilities — the SMS and blast furnace — had been operating at sub-optimal capacity and in June/July 2019, they were shut down due to non-availability of adequate funds.
NINL's current liabilities in HIFY20 stood at Rs 3,778.83 crore.
And even though the company posted highest net sales of Rs 2,005 crore in FY19 (after long-pending capital repairs of blast furnace were completed that led to a capacity utilisation of 93 per cent), earnings before interest, taxes, depreciation and amortisation were insufficient to cover the high interest cost and it incurred a loss of Rs 402.19 crore.
Photograph: Mukesh Gupta/Reuters