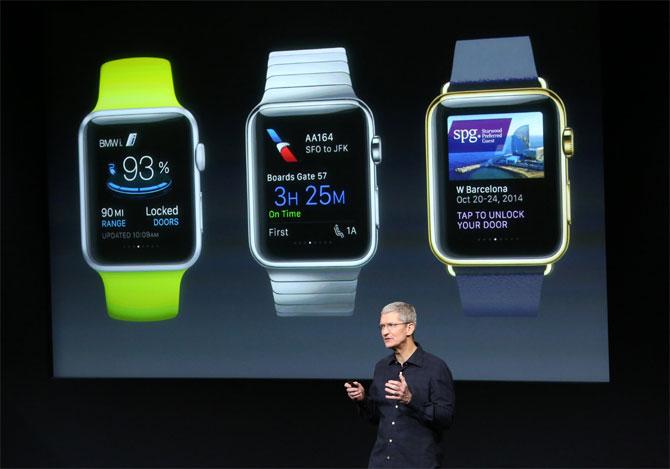 It has long been argued that the true genius of Apple Computer is to move into a space that already has players and, through its remarkably uniform and polished design aesthetic, come to dominate it in shorter time than was thought possible.
It did this with portable music players, then with mobile phones and then with tablets. As of last week, Apple announced its next target: the watch market.
Some observers of Apple's "Spring Fever" launch of its new watch series thought of the various watch models on offer as being merely wearable computers. Of course, that in itself is a big jump, an almost completely new market with few big-name incumbents.
But, in fact, it is a bigger play than that. It is as if Apple had introduced the iPhone into a world without mobiles, where everyone had at most a cordless phone.
Apple doesn't just want to create a wearable computing market - it wants to take over the existing, multi-billion-dollar watch market - including the high-end segment, with its massive margins.
The watch market is ripe for disruption. In effect, three giant holding companies dominate it.
Swatch, which owns Rado, Omega, Longines, Breguet, Harry Winston and others; Richemont, which owns Cartier, Jaeger, Piaget, and Van Cleef & Arpels; and LVMH, which owns Bulgari, Dior and TAG Heuer.
There are some smaller groups, of which Rolex is the largest single-brand player.
As on all luxury products, the margins are attractive; but the really great watch brands run not just on current marketing and quality, but on history, and you can't really buy that if you're a new brand-name entry.
Unless, of course, you're Apple, and have a different history of quality to bring to the equation.
For Apple itself, the reasoning is straightforward. It already dominates its current segments - though it will need to keep growing its iPhone in developing-country markets. But, now that it is a $700-billion company, it needs to find new markets to conquer.
That's what Apple Watch is all about, as is its reported venture into cars.
And, as some analysts have pointed out, for a $700-billion company to show solid growth, it is not enough to capture low margin markets.
Selling a few million watches with minimal margins is not enough to satisfy Apple; it has to steadily move up the value chain as well, selling more and more expensive goods.
Thus iPods to phones, phones to tablets, and tablets to watches - and thence to cars, and who knows what after that. This is what lies behind the apparently puzzling pricing of the Apple Watch.
There are three main lines - the cheapest will cost around $350-450, about the price of a new iPhone.
But the "regular" Apple Watch will cost a couple of hundred dollars more; and there is also to be a top-of-the-line model that will cost $10,000, and compete with mid-level, partly hand-made Swiss watches.
Even the lowest-priced offering is more expensive than its regular Pacific Rim-made watch counterpart, like a Seiko.
And, further, it won't work without being connected to an iPhone, as well as being significantly more expensive than the existing "smartwatches" that run Google's Android Wear operating system. But when it is realised that Apple is in fact trying something entirely new, the pricing decision makes more sense.
Like much else that the Cupertino-headquartered company does, though, there is a whiff of the future about it.
Many assumed that the ubiquity of mobile phones meant that the two-way watch radio of Golden Age science fiction - think Dick Tracy - in which entire cities were imagined walking around and talking into their wrists, would never come to be.
The Apple Watch, which will make calls via its attached iPhone, might make that a reality. And, certainly, people will be less scared of losing their phones if they're wearing them on their wrist.
Photograph: Reuters