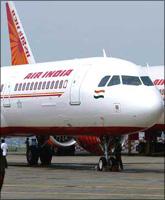 After being in trouble for more than a year and losing Rs 10,000 crore (Rs 100 billion), the Indian aviation industry is looking up.
It should continue doing so if airlines refrain from adding 'unnecessary' capacity and getting into another fare war.
The losses of three listed airlines -- Jet Airways, Kingfisher Airlines and SpiceJet -- in the third quarter of this financial year fell by 37 per cent to Rs 205 crore (Rs 2.05 billion) from Rs 645 crore (Rs 6.45 billion) during the same period last year.
SpiceJet and Jet Airways improved their financials and incurred profit but Kingfisher increased its losses. SpiceJet had a loss of Rs 17.96 crore (Rs 179.6 million) during the same period last year and Jet Airways then had a loss of Rs 214.18 crore (Rs 2.14 billion).
Kingfisher increased its losses to Rs 420 crore (Rs 4.20 billion) from Rs 413 crore (Rs 4.13 billion) during the same period last year.
The airlines that managed a profit did so because of constant effort to cut flab. "The airlines have been cutting flab for around a year and it has paid. Kingfisher has made operational profit and losses might have come from international operations, which they started recently," said Kapil Kaul, India head of the Centre for Asia Pacific Aviation.
"Jet and Kingfisher need to service the huge debt they have or that will create a huge problem in their revival," he added.
It is also felt that 'cutting flab' has its limitations and the airlines should now concentrate on increasing the yields.
"Increasing their yields will be the key to growth," said Rajeev Batra, executive director, KPMG, the financial and business advisory agency.
"This is the best time that Indian aviation is seeing and the next six months will be critical. The airlines should monetise this growth without getting into unnecessary capacity addition," said Nikhil Vora, managing director, IDFC-SSKI, a financial services group.
"If the airlines keep some restraint and jet fuel prices are under control, the industry will recover in the next financial year. And, the airlines would see expansion in the 2010-12 financial year," said Kaul.