Ranjita Ganesan visits The Indus Club, which is not just another old boys' club.
Illustration: Dominic Xavier/Rediff.com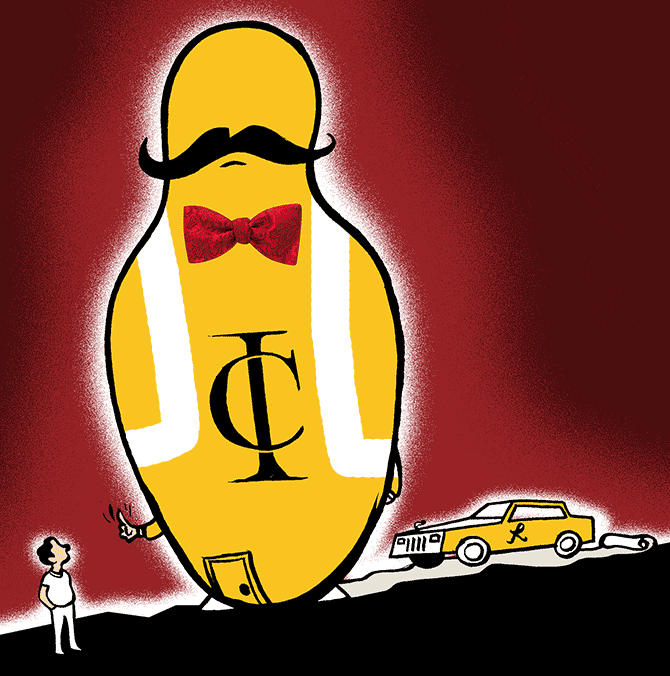 Groucho Marx, the Hollywood comedian, quipped famously that he did not want to belong to any club that would have him as a member.
The attitude appears vastly different among high-flyers today, especially in Mumbai where elite gymkhanas claim exorbitant fees and have long waiting periods for membership. It is likely this which encouraged Harish Thawani to recently build what he reckons is "a temple of luxury" in the Bandra-Kurla Complex.
No gods are enshrined at The Indus Club, started by the founder of Nimbus Communications and NEO Sports. The private, members-only club wants to pay homage instead to thought leaders from various fields. A walkway leading into it is covered with images of prominent personalities and their prized contributions -- Steve Jobs and the iPhone, or Nikola Tesla and the induction motor.
Beginning April, the club will open its doors to people who will be enrolled strictly by invitation or referral.
Three days ahead of the launch, some 150 people have purportedly already enrolled. These are all achievers, in Thawani's view -- promoters and CXOs of businesses across sectors, mainly finance, media, and medium and large enterprises.
It is aimed at those who still consider handshakes to be a precious thing, invested with meaning and possibilities. There are many important handshakes to be had here, the club promises.
Not everyone who shows interest has made it in so far; a few were supposedly turned down politely as they did not fit the profile.
While the city has a number of exclusive gymkhanas, they are essentially sports clubs, observes Thawani. His idea was to have a space that executives from various business hubs in the city can use, without having to travel an hour or two to meet each other.
BKC, with its reputation as the new financial hub, became the obvious location of choice.
Indus will seemingly combine business, socialising and recreation -- at the cost of ₹10 lakh for 20 years. This compares to entry fees of ₹80 lakh to ₹1 crore for sought-after clubs in the city.
It is meant to act as a home away from home and an office away from the office, says Sapna Keswani, the club's general manager for marketing.
This was keeping in mind the needs of businessmen who visit the city for a day and do not wish to work out of rooms and coffee shops of five-star hotels. There is a selection of areas to conduct business, an auditorium, a gym, a restaurant and a bar.
But rather than a single pervasive flavour, each room has a different theme. One of the meeting rooms is a tribute to the films of Martin Scorsese. Another has chairs that resemble flight seats and a propeller as part of its decor. This aviation-inspired room has received extreme reactions thus far -- clients either love it or hate it.
Two-and-a-half years reportedly went into studying the tastes of the uber-wealthy. A research firm was enlisted and Thawani took trips to business clubs in Asia and Europe.
This resulted in the trimmings you might expect -- concealed technology, booth-like chairs for private conversations and one-touch customisation to control lighting and music.
There is a neatly-separated gym so that those in shorts can work out without running into those in suits, and a spa where members can de-stress between meetings, while someone in secretarial support steams their clothes.
Much of the top management at Indus comprises women, notes Keswani.
The idea was to be distinct from the old boys' clubs and attract a diverse clientele. Women are keen to join, she says.
Still, a few of those classic tendencies seem to have trickled down. A cigar room was installed, after going to some length to match the standards of the energy-efficient building the club is housed in, and it is imagined that deals will be struck in the club bar over a glass of malt.
Perhaps the most interesting element is an indoor golf simulator, which reflects the founder's own love for the sport. It is the same system that Tiger Woods uses in his home, he boasts. Users can also sign up for sessions with a coach.
Thawani says his concept is one that others will mimic, given the modern businessman is increasingly spending on entertaining himself and his clients. Being a member of a prestigious club improves one's network and net worth, he says.
If things go according to plan, he will take Indus Club to Bengaluru and Delhi next.