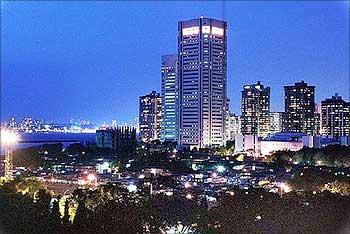 As the World Economic Forum Annual Meeting begins in Davos on Tuesday night, leading Indian chamber Assocham's President Rana Kapoor has sought to utilise this opportunity to project the potential of Mumbai as a top International Financial Centre.

There have been many efforts in the past to develop Mumbai into an IFC, while an expert group was also set up by the government years ago to study this possibility.

However, Mumbai still ranks very low on the list of top IFCs.

According to the latest Global Financial Centres Index, Mumbai slipped to 66th rank in the list of world's leading financial centres.

GFCI which provides profiles, ratings and rankings for 79 financial centres worldwide ranked Mumbai at the 66th place, down three places from last year when it was ranked 63rd on the coveted list. Mumbai is the only Indian city on the list.

Notwithstanding the recent concerns about Indian economy slipping below its optimal growth, the chamber believes
Mumbai's ecosystem possesses the wherewithal to emerge stronger.
"The Indian economy is stabilising and it is critical we focus on our strengths, instead of highlighting missed opportunities," Kapoor said, adding that "WEF can be an appropriate platform to reinforce India's appeal as a global investment destination".
According to Kapoor, WEF can be used to showcase, key areas of opportunity in India such as -- infrastructure and logistics, micro, small and medium sector and development of Mumbai, India's commercial capital, as an International Finance Centre.
The WEF platform has engaged policymakers, think tanks, entrepreneurs over the last four decades with an aim to develop insights, initiatives and actions necessary to respond to current and emerging global challenges.
"Given the significant response that WEF has received from India's participation, the Summit can effectively bring India into the centre stage of discussions by emphasising on symbiotic synergies, focusing on nurturing sunrise sectors and turning the infrastructure developmental plan into a more collaborative process," Kapoor added.