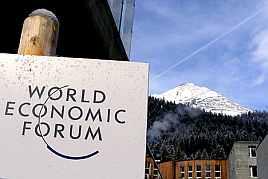 Hundreds of rich and powerful people across the world will congregate next week at the Swiss skiing resort town of Davos for the World Economic Forum, where India will be represented by an over 100-member delegation including senior ministers and corporate leaders.

Those scheduled to attend the five-day WEF Annual meeting, beginning January 21, include more than 40 heads of state or government, including those from the UK, Australia, Japan, Iran, Israel, Pakistan, Brazil, Italy, Mauritius, Republic of Korea and Switzerland, WEF announced on Wednesday at a press conference in Geneva.

The Indian leaders expected to attend the meeting include Finance Minister P Chidambaram, Commerce Minister Anand Sharma, Planning Commission Deputy Chairman Montek Singh Ahluwalia and Minister for Urban Development & Parliamentary Affairs Kamal Nath.

Minister for Heavy Industries and Public Enterprises Praful Patel and Power Minister Jyotiraditya Scindia and Maharashtra Chief Minister Prithviraj Chavan would also attend the meeting.

Besides WEF meetings, the Indian leaders are also expected to hold bilateral and multi-lateral meetings with their counterparts in other countries, as also with the chief executive officers of many top companies from across the world.

More than 100 corporate leaders from India are also expected to be present at this annual global event.

They include Tata group chief Cyrus Mistry, Reliance Industries Chairman Mukesh Ambani, as also other top businessmen such as Azim Premji, Adi Godrej, Gautam Adani, Rahul Bajaj, Sunil Mittal, Kris Gopalakrishnan, Prashant Ruia, Shivinder and Malvinder Mohan Singh, G M Rao, Pawan Munjal, Naina Lal Kidwai, Naresh Goyal, Uday Kotak and Rana Kapoor.

WEF said that its 44th annual meeting would be attended by over 2,500 participants from almost 100 countries, including 1,500 business leaders, and this year's theme would be 'The Reshaping of the World: Consequences for Society, Politics and Business'.

The Co-Chairs of the Annual Meeting 2014 are Kris Gopalakrishnan (President, Confederation of Indian Industry and Vice-Chairman, Infosys), Marissa Mayer (Yahoo CEO), Aliko Dangote (CEO of Nigeria's Dangote Group), Jiang Jianqing (Chairman of Industrial and Commercial Bank of China), Joseph Jimenez (CEO of Novartis), Christophe de Margerie (CEO of Total) and Judith Rodin (President, Rockefeller Foundation).

Leaders of G20 countries who will address the Meeting include Australia's Tony Abbot, Japan's Shinzo Abe, UK's David Cameron, Italy's Enrico Letta, Mexico's Enrique Pena Nieto, Park Geun-Hye from Republic of Korea and Brazil's Dilma Rousseff.

Other top leaders attending the meeting are World Bank President Jim Yong Kim, IMF chief Christine Lagarde, Israel Prime Minister Israel's Prime Minister Benjamin Netanyahu and President Shimon Peres, US Secretary of Commerce Penny Pritzker, Iranian President Hassan Rouhani and Myanmar President U Thein Sein.

Swiss Confederation President Didier Burkhalter, Queen of Jordan Rania Al Abdullah, Kofi Annan Foundation Chairman Kofi Annan, WTO Director General Roberto Azevedo, UN Secretary General Ban Ki-moon, Bank of England Governor Mark Carney, European Central Bank President Mario Draghi, US Trade Representative Michael Froman and OECD Secretary-General
Angel Gurria would also be there.
The five-day meeting would include close to 250 sessions, where top policymakers from across the world would discuss various issues with business leaders from hundreds of global companies, including PepsiCo, ArcelorMittal, Google, Yahoo, Total, Bank of America, Microsoft, BP, Citi, Deutsche Bank, HSBC, Volkswagen, UBS, Unilever and Standard Chartered.
The annual meeting would start on January 21 with a welcome address by WEF Chairman, to be followed by an awards ceremony and a special concert, in the evening, while official sessions would be held for four days between January 22 and 25.
Among the countries, the US comes on the top with 670 participants, followed by UK with 282 persons, while host country Switzerland would be represented by 202 persons.
At the fourth place, India and Germany would have total 124 participants each who are scheduled to attend the meeting.
Among others, China would have 88 participants while others scheduled at the meeting include Japan's 69, Russia's 76, South Africa's 59, UAE's 46, Pakistan's 9, Indonesia's 21, Australia's 22, Brazil's 36, Nigeria's 22 and Italy's 36.
According to an analysis, there would be 1,500 business leaders, including 288 dealing in government relations, 230 from banking & capital markets and 225 media leaders.
The female participation is expected to be 15 per cent.
The average age of a Davos participant this year would be 52 years for men and 49 years for women.
The youngest is 21-year-old Umar Anwar Jahangir, a Shaper from the Islamabad Hub of Global Shapers, the CEO of Bahria Medics, a student run social welfare organisation, while 90-year-old Israel President Shimon Peres is the oldest.
WEF said that this year's Annual Meeting convenes at a time when the world is at a critical juncture, 'as the subsidence of short-term economic crises gives way to a profound need for further structural reforms in emerging and developed markets, and international relations continue to be disrupted by an increasingly multipolar world'.
"Taking place at the beginning of the year, the Annual Meeting will address the challenges facing the world in 2014, with the aim to create a completely new context for insightful, future-oriented decision-making," it added.
"There is no place in the world where so many stakeholders of our global future assemble, all united by the mission of improving the state of the world," WEF Founder and Executive Chairman Klaus Schwab said.
WEF said issues likely to be discussed at the meeting include disruptive Innovations, inclusive Growth, society's new expectations and evolving new "world of nine billion".
This year, a special focus would be on issues related to healthcare and climate change. as also 'the pressing youth unemployment challenge, economic prospects in major emerging economies including China and India as well as the future of North Africa and West Asia.