Technical rallies and short covering may arise only if the markets break this 500 point band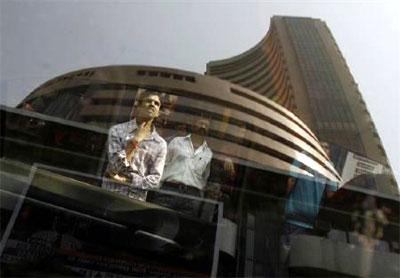 Markets posted gains in four out of five sessions last week, finishing on a firm note as investors heaved a sigh of relief after the US Federal Reserve hiked interest rates by 25 basis points citing confidence in the world's largest economy.
The US Federal Reserve's first rate hike in a decade was a non-event for Indian markets. Additionally, the US central bank signalled future increases in interest rates would be gradual.
The S&P BSE Sensex surged 475 points or two per cent to end at 25,519 over the week, while the Nifty50 surged 152 points or two per cent to close at 7,762. However, the broader market outperformed the benchmarks. The BSE Mid-Cap index jumped 3.2 per cent and the BSE Small-Cap index gained 2.8 per cent.
"The grinding continues for the index, as there is a clear lack of direction, with more of stock specific moves, rather than any indications of trend from any key sector. So far post-Diwali, the markets have remained in the range of 7,500-8,000, and I believe that lack of any key trigger, domestic as well as international, would lead the markets to consolidate further. The selling by the FIIs has abated in the last few days; however, any significant signs of turnaround could probably not be seen. Also, Christmas, which is generally seen as a holiday season for the global investors, could probably induce more lacklustre movement," said Kunal Bothra, head of advisory, LKP Securities.
"Technical rallies and short covering may arise only if the markets break this 500 point band. However, conviction would prevail if there are few key sectors which lead the trend," he added.
Macroeconomic data
A mixed set of macroeconomic data was released during the week. The government's mid-year economic review lowered India's growth forecast for FY 2016 to 7-7.5 per cent from 8.1-8.5 per cent, but promising to hold the fiscal deficit at 3.9 per cent while projecting a revenue deficit of 2.8 per cent for FY16.
The WPI data for November stood at -1.99 against -3.81 for October, continuing for the 13th month in contraction mode. Meanwhile, retail inflation based on the consumer price index (CPI) jumped to 5.41 per cent in November 2015 from five per cent in October 2015 driven largely by a lower-than-normal monsoon that has driven up food prices. Moreover, India's merchandise exports slipped for the 12th consecutive month in November this year.
Key stocks
In order to reduce pollution in New Delhi, the Supreme Court banned the registration of diesel sports utility vehicles and cars with an engine capacity of over 2,000cc in the national capital region until March 31, 2016. Auto stocks closed on a mixed note. M&M, whose product line-up is dominated by diesel-driven SUVs, dropped 1.4 per cent while Tata Motors and Maruti Suzuki gained between 0.1 per cent and three per cent.
Wipro fell 2.08 per cent, as the company expects that the recent heavy rainfall and resultant flooding in Chennai will have a material impact on the revenues and will result in higher one-time cost incurred towards deployment of the company's business continuity plan.
On the flip side, steel stocks climbed this week with Tata Steel gaining six per cent and emerging as the biggest gainer in the 30-share Sensex pack after the government imposed anti-dumping duty on stainless steel imports to protect the domestic industry from cheap imports. Among other stocks, Jindal Steel, JSW Steel and SAIL advanced between five per cent and seven per cent.
Other prominent gainers include HDFC, Sun Pharma, Infosys, Reliance Industries, Hindalco and HUL up between four per cent and five per cent.
Week ahead
Trend in the global markets, movement in crude prices and rupee along with the FII stance will dictate the trend on the bourses in the coming week. Meanwhile, markets will remain closed on Friday, on account of Christmas.
Adani Ports and Special Economic Zone (APSEZ) and Asian Paints will replace Vedanta and Hindalco Industries on the BSE Sensex with effect from Monday.
With only three working days remaining for Parliament session to conclude, markets participants are hoping against hope for the passage of the crucial goods & services tax (GST) Bill. An all-party meeting convened by Rajya Sabha Chairman Hamid Ansari on Friday, however, failed to reach a consensus, leaving the fate of the Bill in serious doubt. Additionally, Finance Minister Arun Jaitley on Saturday hinted that the GST Bill might not make it through Parliament in the current session.
The US and UK are scheduled to announce their Q3 GDP data is on Tuesday each. Meanwhile, US initial jobless claims data for December is scheduled to be release on Thursday.