While delivering the third Verghese Kurien lecture in Anand, RBI governor Raghuram Rajan was clear about cleaning up the mess in the banking system.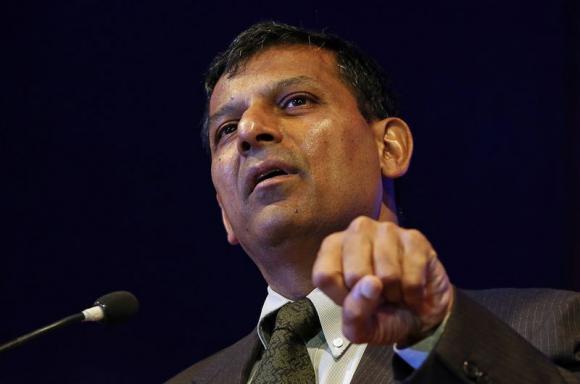 Image: RBI governor Raghuram Rajan. Photograph: Sailesh Andrade/Reuters
Reserve Bank of India Governor Raghuram Rajan has lashed out at big borrowers whose payment defaults have disrupted the entire banking system.
Rajan minced no words in criticising the existing 'draconian law' which is skewed towards bigger borrowers and hence small entrepreneurs, and the masses at large end up paying for a bank default done by politically connected big businessmen.
Rajan who was at the Institute of Rural Management in Anand, Gujarat, to deliver the third Verghese Kurien lecture seemed very concerned about the deteriorating financial condition of public banks due to mounting bad loans on their books.
"Wilful defaulters must be recognised as freeloaders and should not be lionised as industry captains," the RBI governor said assertively.
He also said that honest borrowers and taxpayers end up paying for losses suffered by banks due to non- payment of loans by renowned businessmen.
He was perhaps hinting at the Rs 7,000 crore (Rs 70 billion) loan defaults by crisis-hit Kingfisher Airlines which has disturbed the financial condition of around seven banks.
Rajan made it clear that the remarks were certainly not intended at businessmen who treat creditors fairly.
He also explained that in India if a firm is on the brink of closing down, it is expected that banks and the government bail it out.
And, if the same company recovers from its lows, it never bothers to acknowledge the help and support extended to it in tough times.
In such cases, banks would be happy if they get back at least some of their money back, Rajan said.
Few other things that are ailing the system, according to Rajan
Draconian Law
We can't afford to have any draconian law, where a bigger borrower can get away with a loan default and eventually a smaller borrower gets trapped.
What is required is a more timely and fair application of current laws where creditors get powers to deal with such situations in a better way.
We also need new institutions such as bankruptcy courts and turn-around agents.
Finally, we need a change in mind set, where the wilful or non-cooperative defaulter is not lionised as a captain of industry, but is treated as a freeloader on the hardworking masses.
"I am sure that is a change in mind set that Verghese Kurien would approve of, " Rajan said.
Why a new bankruptcy law
Rajan said the the government is working on a new bankruptcy law which will be structured propelry to bring clarity, predictability and fairness in the system.
He also said that the new law will lend greater flexibility to banks at the time of restructuring bad loans so that they can recover their loan amount.
He admitted that RBI has so far been reluctant to give banks this flexibility because it has been misused by few banks in the past.
On black money
Rajan repeated what he had said earlier at the Lalit Doshi Memorial lecture in Mumbai few weeks ago, "Along with tracking down individuals holding black money abroad, it is also important to consider how the upper middle class could be incentivised against taking recourse to black money. "Let's cut it off at the source," Rajan said.
India must act to maintain sanctity of a debt contract
Before getting into the nitty-gritty of how big borrowers don't honour the debt contract these days, Rajan, first explained what a debt contract typically is like in India
A debt contract is one where a borrower, be it a small farmer or the promoter of a large petrochemical plant, raises money with the promise to repay interest and principal according to a specified schedule.
If the borrower cannot meet his promise, he is in default.
In the standard debt contract through the course of history and across the world, default means the borrower has to make substantial sacrifices, else he would have no incentive to repay.
For instance, a defaulting banker in Barcelona in mediaeval times was given time to repay his debts, during which he was put on a diet of bread and water.
At the end of the period, if he could not pay he was beheaded.
Punishments became less harsh over time. If you defaulted in Victorian England, you went to debtor's prison.
Today, the borrower typically only forfeits the assets that have been financed, and sometimes personal property too if he is not protected by limited liability, unless he has acted fraudulently.
But of late, the sanctity of the debt contract has been continuously eroded in India in recent years, not by small borrower but by large borrowers to be precise.
And this has to change if we get banks to finance the enormous infrastructure needs and industrial growth that this country aims to attain.
Banks unable to recover loan amounts
Rajan also pointed out that of the Rs 2,36,600 crore (Rs 2.36 trillion)sought to be recovered, banks have managed to recover hardly Rs 30,590 crore (Rs 305.90 billion) in the current financial year and this is an alarming situation, he pointed out.
Banks need to be empowered with strict laws to deal with such situations.