After a historical victory on the plank of Maa-Maati-Manush (mother-land-people), the Trinamool Congress government grappled with major economic issues during the year, which experts say, would warrant dramatic reversal of policies on issues such as land acquisition.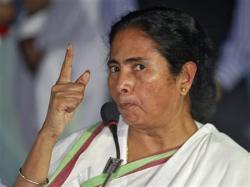 It is felt the Chief Minister Mamata Banerjee's emphasis on a rigid land policy has pleased the farming community but not the industry.

Banerjee's consistent tirade as the Opposition leader against Tata Motors' Nano plant at Singur, which was finally cancelled, had its impact on investor confidence in the state.

It would have required a turnaround in the policy of the incumbent state government to woo investments by convincing farmers on the need to have a simultaneous growth in industry along with agriculture.

Induction of industry-savvy former secretary general Ficci Amit Mitra as Finance Minister fuelled hopes of industrial revival during the year after Banerjee came to power in May 2011, ending the 34-year old Left rule.

In August 2012, the state government formed a panel of Group of Ministers (GoM) to formulate a new industrial investment policy for West Bengal. Besides Mitra, the panel included Industry Minister Partha Chatterjee and Labour Minister Purnendu Bose.

Banerjee also announced that a new policy that would focus on IT and NRIs.

Besides, she said a decision had been taken to set up two deep-sea ports, in Sagar and Rasulpur and that global tenders would be floated for both of the them.

Industrialists
apprehend the government's emphasis that there would be no forcible acquisition of land and industry would have to directly purchase from landowners, could slow down investments to a trickle.
Success of the proposed investments by companies like Jai Balaji Steel, Bhusan Steel, NTPC (Katwa power project) and Kulpi port, that would involve investments of over Rs 40,000 crore (Rs 400 billion), will hinge on a industrial-friendly policy, they say.
Not only the land policy, the state government's decision of not allowing IT SEZs has also cast a shadow on the possible entry of IT major Infosys in Bengal.
The state government is not in favour of allowing SEZs as a "matter of principle" and instead has sought extension of the Software Technology Park scheme to IT companies, which were looking for special status, which the Centre refused to agree to.
The silver lining during 2012 was the announcement of Tata Consultancy Services' (TCS) IT SEZ project at Rajarhat-New Town area near the state capital for which the approval was obtained during the previous Left Front government regime.
The Rs 1,350-crore (Rs 13.50 billion) project would be the company's first SEZ in the state and is expected to generate 16,500 IT jobs. The problem areas include West Bengal's dream project Haldia Petrochemicals which is seeking working capital assistance from banks.
Also, cargo handling company Haldia Bulk Terminals, jointly promoted by ABG group of India and French logistics company LDA, had on October 31 announced its immediate exit from Haldia citing unsafe work conditions.