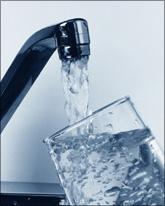 Orders are flowing for the water and wastewater treatment industry, as leading players in the domestic market such as VA Tech Wabag, Larsen and Toubro, Thermax and IVRCL Infra have bagged over Rs 2,500 crore (Rs 25 billion) worth of orders in the past two-to-three months.
VA Tech Wabag, headquartered in Chennai with a Rs 1,200-crore (Rs 12 billion) turnover, yesterday said it has been awarded the contract for implementing India's largest seawater desalination project, by Chennai Metropolitan Water Supply and Sewerage Board (Chennai Metro Water).
The total cost of the project is Rs 1,033 crore (Rs 10.33 billion) and it will have a capacity of 100 million litres a day. The plant will be constructed on a DBO (design, build and operate) basis and will be commissioned in the next 24 months.
VA Tech Wabag had earlier designed and built seawater desalination plants for Adani Power in Gujarat, for Hindustan Petroleum Corporation at the Vizag Refinery, and for Gujarat Mineral Development Corporation.
"With this, our order book now stands at Rs 3,300 crore (Rs 33 billion) and we expect another Rs 500-600 crore (Rs 5-6 billion) of orders within the coming three to four months," Rajiv Mittal, managing director, told Business Standard.
The Indian water treatment business is estimated to be about Rs 2,000 crore (Rs 20 billion) and growing at 15-20 per cent annually. This includes the Rs 1,200-crore industrial water treatment sector and the Rs 800-crore (Rs 8 billion) point-of-consumption market, which involves localised water treatment.
PSL Ltd, the largest manufacturer of pipes in India, today announced it had bagged orders worth over Rs 425 crore (Rs 4.25 billion) in the past 10 days for the manufacture of pipes for water supply projects from infrastructure companies like L&T, Lanco, Nagarjuna Construction Company, Subhash Projects (SPML), and South East Constructions.
"We expect various infrastructure players to place orders worth Rs 2,500 crore for pipes for water supply projects within the next 18 months," said Ashok Punj, managing director of the Rs 3,600 crore (Rs 36 billion) turnover PSL, which controls over half of the pipe market in the country.
In another announcement, IVRCL Infra and Projects yesterday said it had bagged infrastructure projects worth Rs 958 crore (Rs 9.58 billion), which includes a Rs 253-crore (Rs 2.53 billion) order from the Gujarat government's Gujarat Water Infrastructure for implementing the NC-24 water supply scheme in the state.
The company also bagged a Rs 142.35-crore (Rs 1.423 billion) contract from Cauvery Neeravary Nigama and another Rs 133.64-crore (Rs 1.336 billion) contract from Bangalore Water Supply and Sewerage Board (BWSSB). With these, the company's overall order book now stands at Rs 22,000 crore (Rs 2,200 billion), IVRCL said in a filing to the Bombay Stock Exchange.
Last week, engineering and construction major Larsen & Toubro had said the company got a Rs 189-crore (Rs 1.89 billion) order from the BWSSB. The contract includes fabrication and laying of a mild steel pipeline.
The scheme, funded by Japan International Cooperation Agency, envisages transmission of 500 million litres per day of clear water from the river Cauvery (Shiva Balancing Reservoir) to Bangalore. The project, to be completed in 24 months, involves laying a pipeline from Harohalli to Tataguni and Vajarahalli, along with associated civil work.
L&T's water and water treatment business are handled by the Metallurgical, Material Handling and Water Operating Company, a part of its construction division. In October, the Uttar Pradesh Jal Nigam had entrusted L&T with a Rs 488-crore (Rs 4.88 billion) order for implementing projects under the Jawaharlal Nehru National Urban Renewal Mission (JNNURM), a massive city modernisation scheme funded by the Government of India.
Of this, Rs 274 crore (Rs 2.74 billion) will go to provide a sewage system to Varanasi city in 30 months, another Rs 121 crore (Rs 1.21 billion) to provide water supply to Allahabad city in 24 months and Rs 93 crore (Rs 930 million) to a wastewater management system for Mathura town, also in 24 months.
The allocation for JNNURM was increased by 87 per cent by the Union government for 2009-10 to Rs 12,887 crore (Rs 128.87 billion).
It had sanctioned 463 projects requiring an investment of Rs 49,743 crore (Rs 497.43 billion), mainly for basic urban services like water supply, sewerage and stormwater drainage. Agencies such as the Asian Development Bank, World Bank and Japan Bank for International Cooperation are also funding water and wastewater treatment projects.
Another leading player in the segment, Pune-based power solutions player Thermax, had bagged Rs 155 crore (Rs 1.55 billion) worth of orders for sewage treatment in Maharashtra and in Jammu and Kashmir.