Warren Buffett said on Monday the US economy is gradually improving, helped by the efforts of Federal Reserve Chairman Ben Bernanke to stimulate it, but that low interest rates have made bonds "terrible investments."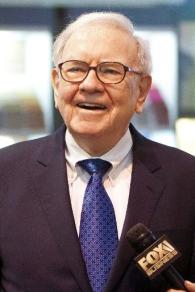 Speaking on CNBC television, Buffett said the economy is benefiting from improvement in areas that had not previously performed well, particularly homebuilding.

He also said the improved economy is helping create increased traffic for NetJets, Berkshire Hathaway's private plane unit, and could drive Berkshire's railroad unit Burlington Northern Santa Fe to record earnings this year.

"The economy is moving forward, but at a slow pace," he said. "Demand has come back, but slowly."

Buffett spoke on CNBC after Berkshire's annual shareholders meeting over the weekend in Omaha, Nebraska.

The world's fourth-richest person said low benchmark interest rates, including overnight rates that have been effectively zero since late 2008, can help stimulate demand.

"When interest rates are low, and people expect them to stay low for a while, it pushes up the value of all other assets," he said. "Interest rates act like gravity for all other asset prices."

But many investors have also been drawn to bonds because their prices rise as rates fall, and Buffett said they could get their comeuppance when that process reverses.

"Bonds, they're
terrible investments now," Buffett said. "That will change at some point, and when it changes, people could lose a lot of money if they're in long-term bonds."
Stocks, in contrast, are "reasonably priced," though he continues to shy away from sectors such as media, where he cannot reasonably predict who will thrive in the long run.
"It's a lot easier for me to predict that ketchup will be doing well or Coca-Cola will be doing well in 10 years," Buffett said, referring to Berkshire's pending takeover with Brazilian investment firm 3G Capital of H.J. Heinz Co, and Berkshire's large investment in Coca-Cola Co stock.
Buffett also said investors should not fear major stock indexes at or near record highs, provided they are investing for the long haul. "I don't know how they will do in the next 10 days, and I don't think anyone should think about it," he said.
At the annual meeting, Buffett and Berkshire Vice Chairman Charlie Munger agreed that the economic stimulus provided by Washington during the 2008 financial crisis was needed to address what Buffett called "the greatest panic in my lifetime."
Speaking on Monday, Buffett called Bernanke "a gutsy guy" who has "done very, very well in terms of what he has done for the United States."
Last week, the Fed said it will continue to buy $85 billion of bonds per month to keep interest rates low and spur growth, and said it will step up purchases if needed.
The economy grew at a 2.5 percent annualized rate in the first quarter.