Various online platforms let you invest in direct mutual funds.
Priyadarshini Maji takes a look at their charges and offerings.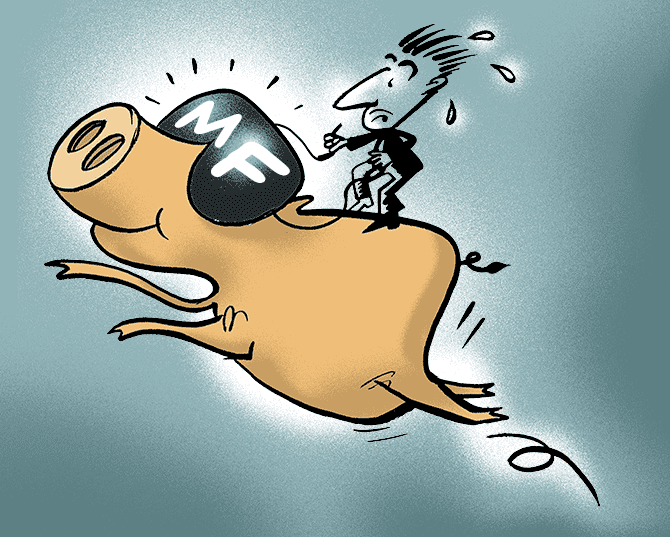 Illustration: Dominic Xavier/Rediff.com
After receiving approval from the Securities and Exchange Board of India to become a registered investment advisor, Paytm will soon launch a new wealth management app, Paytm Money, which will allow investors to invest in mutual fund products of all categories.
The app will offer mutual funds from the top 12 largest asset management companies (AMCs).
Paytm Money will only sell direct mutual funds, with no charges up to a certain limit.
"We are trying to make wealth management more accessible to the masses. Till a certain investment limit, Paytm Money will be free of any fees. Beyond that limit there might be a small transaction or subscription fee," says Pravin Jadhav, senior vice-president, Paytm.
"India's wealth management services market has focused mainly on the urban segment so far, leaving a huge chunk of the market untapped for the mutual fund industry. Paytm's new launch will help in expanding it," he adds.
Expense ratios of direct funds are much lower than those of regular funds.
They are meant for investors who invest directly without the help of a distributor.
They do not have any embedded distributor commissions, unlike regular mutual funds.
Due to their lower expense ratios, the returns of direct funds are higher than those of regular funds.
A large number of online platforms are available from which you can buy direct mutual funds.
You can opt for an AMC's portal, mutual fund utility (MFU), CAMs and other online portals set up by private players.
Some of these platforms are absolutely free of cost, some charge a flat fee, some charge a flat fee after a certain threshold or have percentage-based transaction charges.
Individual AMCs and MF Utility let you invest in direct funds by registering on their platforms.
They do not charge any fee.
CAMS' investment facility is also free of any charge.
They also provide you with a consolidated statement online across all the mutual fund schemes.
Other online platforms such as Zerodha Coin let you invest in direct schemes up to Rs 25,000 for free and then charge Rs 50 per month, but do not have a built-in investment advisor.
Clearfunds lets you invest in direct schemes with a charge of Rs 199 every time you invest a lump sum or start a fresh SIP, irrespective of the amount invested.
This platform also provides you an advisory on which are the top schemes based on your requirements.
They have also partnered with leading analytical companies and provide in-depth analysis of mutual funds.
Moneyfront charges a flat yearly fee of Rs 1,200 per year for Indians and Rs 3,000 per year for NRIs.
This platform lets you compare between funds and helps you find out how much you will need to invest to meet a certain goal.
To invest in mutual funds from their platform, Expowealth charges you Rs 149 for every transaction you make.
You can also take a yearly subscription of Rs 1,788, which will let you make an unlimited number of a lump sum or SIP transactions.
They are also coming up with services such as providing advisory and managing portfolios based on your specific needs, goals, and risk profile.
Invezta, an online portal, also lets you invest in direct plans for free up to Rs 50,000, above which they charge a minimum amount of Rs 948 per year and Rs 1,308 per year as platform fee and advisory.
For these charges, they provide advisory services such as personalised asset allocation, fund selection and portfolio rebalancing.
Kuvera, a Sebi-registered investment advisor, offers goal-based planning but does not charge any fees on its investment platform.
Industry experts believe that to invest directly in mutual funds, buyers need to have proper knowledge of the product. Right now the number of such mature buyers is still limited.
According to a report by the Association of Mutual Funds of India, only about 10 per cent of retail investors and 18.1 per cent of HNIs invest in direct mutual funds.
Around 41 per cent of the assets of the mutual fund industry, including retail, HNIs, institutions and corporates come directly.
A large proportion of these direct investments are from institutional investors and corporates.
Viral Berawala, chief investment officer, Essel Mutual Fund says, "Physical distributors still add a lot of value to customers. They handhold clients and help them understand which fund is better and will help them fulfil their goals. This kind of knowledge is needed before buying a scheme."
If you need advice, pay a Sebi-registered investment advisor for it and then invest in direct mutual funds.