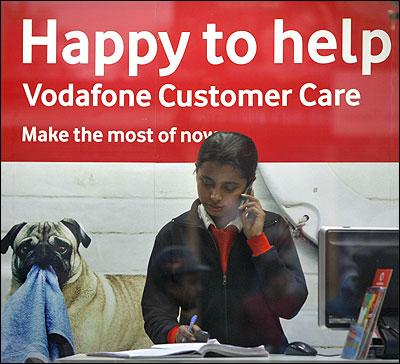 World's second largest mobile operator Vodafone Plc of UK on Tuesday sought FIPB approval to invest Rs 10,141 crore (Rs 101.41 billion) in raising its stake in the Indian arm to 100 per cent.
"Vodafone confirms it has filed an application with the Foreign Investment Promotion Board (FIPB) to increase its holding in Vodafone India Ltd (VIL) from 64.38 per cent to 100 per cent," Vodafone said in a statement.
The telecom major said it has always maintained that it would like to increase its holding in the business and the plan of further investment demonstrates Vodafone's long-term commitment to India.
"The total inflow of foreign investment into India as a result of the proposed transactions will be approximately Rs 10,141 crore. Following the completion of these transactions, Vodafone will also consider providing additional funding to VIL by subscribing to equity shares of VIL," Vodafone said.
The UK-based firm will buy minority investors including billionaire industrialist Ajay Piramal, who holds 11 per cent stake in Vodafone India. The remaining 25 per cent interest is with undisclosed minority shareholders, who are understood to include Analjit Singh, chairman of Vodafone India.
Vodafone entered India in 2007 by buying out Hong Kong-based Hutchison in Hutchison Essar for $11 billion.
The telecom major said: "Vodafone will continue to invest in India to bring the benefits of mobile communications and financial inclusion to more and more people across the country."
Vodafone India is among the top 5 contributors to Vodafone Plc's global revenue. In India, Vodafone ranks second in terms of mobile customers.
Vodafone is the first mobile operator to have applied for going solo in the Indian market under new norms, which allow foreign telecom companies to wholly own their India units.
Other telecom operators which are majorly owned by foreign telecom companies are Sistema Shyam Teleservices, Uninor and Aircel. Vodafone had been looking to buy out stakes held by India partners as it wanted pave a smoother path for investment in the country.
"Actually, Indian ownership was a restriction which means if you want to strengthen your balance sheet by bringing in equity, also your Indian partner needs to bring in equity
which is of course tough," VIL Managing Director and CEO Martin Pieters had earlier told PTI in an interview on the reason behind planning the parent firm's to raise stake. Vodafone India has plans to invest Rs 4,000-6,000 crore annually in its telecom networks.
Pieters said Vodafone is also working out plans to invest in India under Project Spring where its plans to invest about $9 billion in next three financial years across the globe in its 4G, 3G and other telecom networks.
As per global telecom body GSMA, Vodafone ranked next to China Mobile in terms of mobile connections and revenues in first quarter of 2013. "We have balance sheet that is strong enough to do it (acquire company) if it's necessary," Pieters said.