Arvind Kejriwal, Aam Admi Party leader, questioned the Union Law minister Kapil Sibal's decision to clear a proposal that allows Vodafone to 'settle' the Rs 11,217 crore tax row with the government.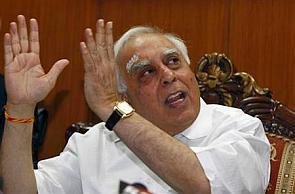 Kejriwal, on Wednesday, alleged that Sibal has a conflict of interest because his son has been a counsel for Vodafone.

Earlier, Sibal's predecessor Kumar had rejected the Finance Ministry's plea for conciliation with Vodafone for the tax dispute, terming it 'illegal'.

Prior
to clearing the proposal, Sibal had sent it to Attorney General GE Vahanvati for his opinion. Vahanvati who had earlier opined against a compromise, in a fresh stance said conciliation is legally tenable.
Once cleared by the law minister, the cabinet will take up the issue and settle the dispute with Vodafone, after which it will go to Parliament for approval.