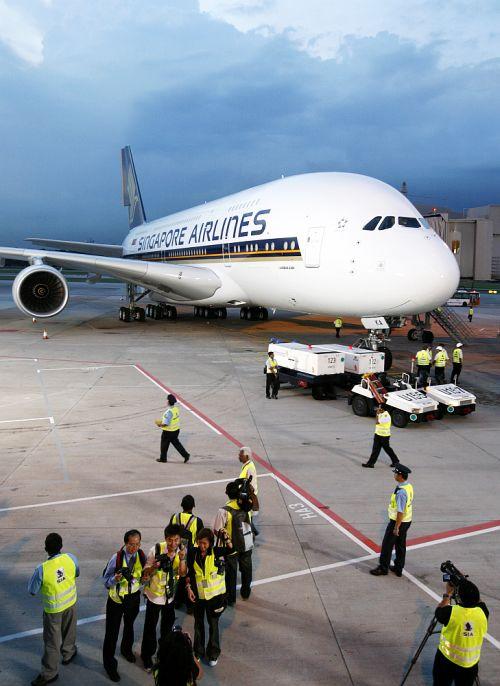 People have their photo taken in front of the Airbus A380 superjumbo at Singapore's Changi Airport. Photograph: Vivek Prakash/Reuters
Vistara, a joint venture between the Tata group and Singapore Airlines, will commence operations from October this year and it will be the first domestic airline to offer a 'premium economy class'.

While the airline management remains tight-lipped about its plans, sources have said it is likely to offer 148 seats per flight -- 16 business class, 36 premium economy, and 96 economy class seats.

"We are finalising our plans and will be able to share more details with you in due course when we are ready.

"Our focus right now is to put together all the right elements in place to provide our guests a seamless experience and welcoming environment whenever they travel with us," said a Vistara spokesperson.

Foreign airlines Cathay Pacific, Air France and Virgin Atlantic, among others, have 'premium economy' seating, which offers more leg room and better meals and amenities to passengers.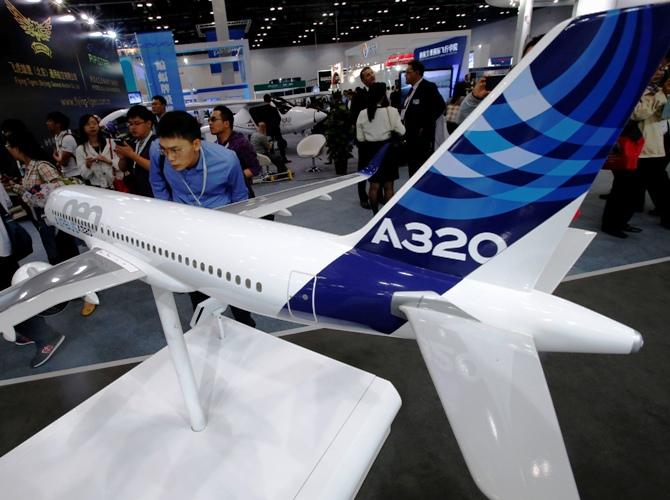 A visitor looks at a miniature model of an Airbus A320 at Aviation Expo China 2013 in Beijing. Photograph: Kim Kyung-Hoon/Reuters
Vistara's parent Singapore Airlines, too, is launching a premium economy service on its flights. Premium economy fares on Virgin Atlantic's India-London flights cost 10 per cent more than economy seats, while Cathay Pacific's premium economy costs 30 per cent more on India-Hong Kong routes.

US airlines offer premium economy seating on domestic routes.

Last month, SpiceJet unveiled SpiceJet Max, in which it offers better leg room in front five rows.

Vistara, however, is yet to announce its pricing strategy.

The airline is promising personalised service not seen before in this country.

According to aviation blog Bangalore Aviation, Vistara's premium economy class will target the mid-level managers who are prohibited by corporate policies to travel in business class, with a six abreast 3-3 seating, but with increased legroom with 36-38 inches of seat pitch along with upgraded groundhandling and meal service.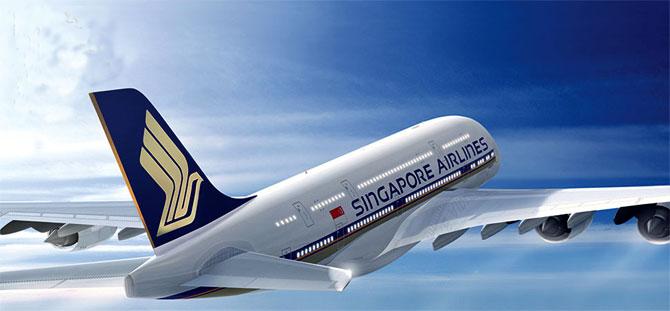 A Tata-Singapore Airlines aircraft. Photograph, courtesy: SIA
Vistara will take delivery of its first aircraft in September and will have a fleet of five by the end of the year.

Its application for the air operator's permit is being examined by the Directorate General of Civil Aviation.

Vistara will be a full service airline and, according to initial plans, will fly to five cities which could go up to 11 after a year of operations.

The airline will have 87 weekly flights linking Delhi to Mumbai, Goa, Bengaluru, Hyderabad, Ahmedabad, Jammu, Srinagar, Patna and Chandigarh.

Tata Sons partnered Singapore Airlines on September 19, 2013 to launch a full-service airline in India with an initial investment of $100 million.

Tata Sons holds a 51 per cent stake in the airline. SIA owns the rest for $49 million.

Vistara has made Delhi its hub because of Mumbai airport's lower capacity.

The Tata-SIA joint venture has said it would like to fly abroad if allowed.

Current rules do not permit Indian airlines under five years and with fleets less than 20 aircraft to fly abroad.

The aviation ministry has prepared a Cabinet note to change the policy.

ON THE RIGHT TRACK
Sources say Vistara is likely to offer 148 seats per flight -- 16 business class, 36 premium economy, and 96 economy class seats
Vistara will take delivery of its first aircraft in September and will have a fleet of five by the end of the year