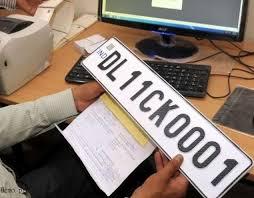 A Chandigarh-based businessman spent a whooping Rs 801,000 on a VIP number for a scooter he gifted his son on his wedding.
Kanwaljit Singh Walia made the highest bid in an open auction conducted by Chandigarh's Registering and Licensing Authority for number '0001' in CH-01-BC series for his Activa scooter, an RLA official said in Chandigarh.
"I bought this '0001' number for the Activa scooter that I gifted my son on his marriage," Walia said on Wednesday.
Walia, who is in catering business, already possess two '0001' numbers for his two ultra luxury four-wheelers.
Besides, Walia bought two other registration numbers '0011' and '0026' for a high-end motorcycle and a four wheeler by paying Rs 202,000 and Rs 61,000 respectively.
"I paid a total sum of Rs 10.64 lakh (Rs 1.06 million) for these three numbers," he said adding that the payment had gone into government's kitty which would be spent for development works.
The auction, which was held on May 9 in Chandigarh for CH-01-BC series numbers from '0001' to '9999', contributed Rs 7771,000 to the state exchequer.
The second highest bid was made for '0009' number which went to a Chandigarh-based firm for Rs 401,000, the RLA official said.
The image is used for representational purpose only