Cerf speaks about building Internet businesses in India and the information overload which is a fall out of a hyper connected world.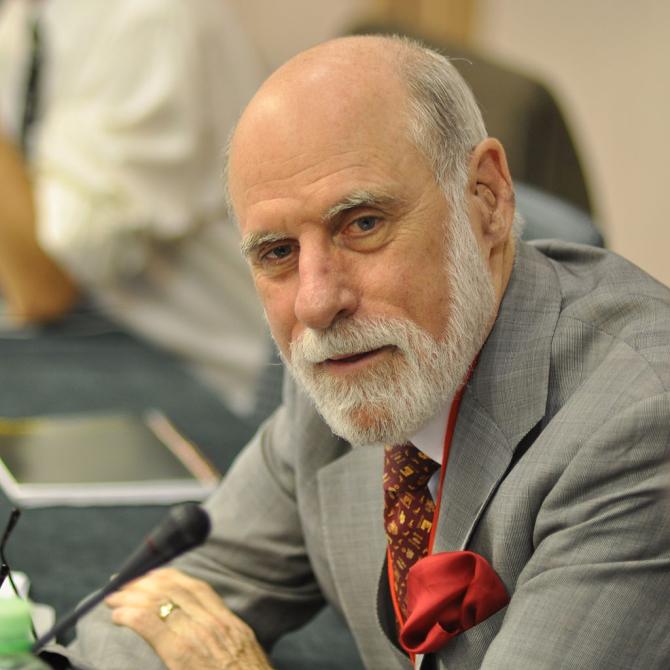 Widely recognised as one of the 'fathers of the Internet', Vinton Gray Cerf was in India earlier this week to hold discussions with officials of the ministry of communications and information technology over the government's ambitious Digital India project.
Cerf is also the vice-president and chief internet evangelist for Google Inc.
Delivering a talk at a seminar organised by Federation of Indian Chambers of Commerce and Industry, Cerf spoke about building Internet businesses in India and the information overload which is a fall out of a hyper connected world. Excerpts:
On building Internet businesses in India
Successful businesses spend less money than they make; it may seem obvious. But I can tell you from my experience during the dot boom and the bust that there were a lot of people who did not understand the difference between capital and revenue.
So, huge amounts of money were flowing into any company that seemed like it was doing something with the Internet.
And CEOs of those companies spent that money, failing to realise that capital is finite.
Revenue continues but you run out of capital after sometime.
And they continued to spend capital like it was revenue. As small businesses based on the Internet and technology start taking off in India, we have to make sure that the CEOs understand the difference between capital and revenue.
On the potential of the 'Internet of Things', which will connect most daily use appliances through a chip on the Internet.
There is a great deal of interest in the Internet of Things in India and globally.
An idea that devices can be smart, and can be programmed opens up vistas for functionality that you can't implement using anything else.
To be honest with you, it never occurred to me 30 years ago that a toaster will be on the Internet.
Everything inside the refrigerator will have RFID or radio-frequency identification tags, so that the refrigerator knows what is inside.
And suppose you are sitting on your desk looking for a cooking recipe, the refrigerator could send you reports of everything in it that you could use to prepare the recipe.
But, the Japanese with their renowned intelligence have invested in a bathroom weighing scale.
You step on it and it takes your weight and figures out which family member you are and sends your reports to the family doctor for the regular record.
But, there is only one problem. The refrigerator is on the same network, and so it refuses to open since it knows that you are on a diet.
Similarly, I have a system installed in my wine cellar, which sends me an alert if the temperature there is more that what it should be.
I predict such sensory systems in every office in every home very soon.
On Digital India after Cerf's meeting with Union IT minister Ravi Shankar Prasad and secretary Ram Sewak Sharma.
I think the current plan that I understood, to build fibre optic network and make it available on a wholesale basis, so that other third parties can offer retail services, is a very powerful point.
But, just providing the framework isn't enough, we have to provide services, the content too.
We told them that Google is interested in being helpful, we have some ideas.
We want to share some of those ideas and figure out which ones make sense.
It is very clear that the private sector will play a major role in making this happen.
How to deal with information overload
That is something that I am very familiar with.
There are several ways to deal with it - one of them is software which lets you filter information that might be important to you at this moment.
There is a thing called Google Now, which is our attempt to provide you with timely information, it knows where you are and it probably knows where you are supposed to go and customises information accordingly.
So, more the software considers what you are trying to do, it can filter information to give you what you need now.
Photograph: Courtesy, Veni Markovski/ Wikimedia Commons