While the entry of 62-year-old Noel Tata, half brother of Ratan Tata, into Tata Trusts is being seen as a significant departure from the past within the salt-to-software conglomerate, Jehangir, a long-standing philanthropist is expected to add heft to Tata Trusts. On the other hand, Venkatarmanan would shift to another role within the group.
Tata Trusts, a cluster of charitable organisations controlling 66 per cent of Tata Sons, the holding company of the group, announced a series of top-level changes after a crucial board meeting on Wednesday.
The restructuring includes one exit and two fresh inductions into the trust.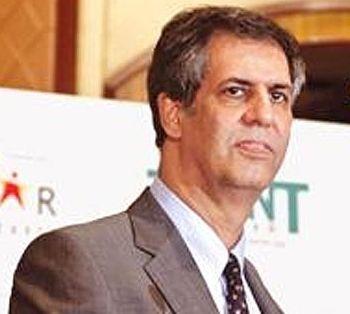 R Venkataramanan (Venkat as he's often called) stepped down as managing trustee of the Sir Dorabji Tata Trust, while Noel N Tata, chairman of Trent and managing director of Tata International, and philanthropist Jehangir H C Jehangir have been brought in as trustees at the Sir Ratan Tata Trust.
The entry of 62-year-old Noel Tata, left, half brother of Ratan Tata, into Tata Trusts is being seen as a significant departure from the past within the salt-to-software conglomerate.
Noel is also brother-in-law of former Tata Sons chairman Cyrus Mistry.
Although there has been much talk earlier about Noel's likely entry into the Trusts, it had so far proved to be a false alarm.
Before Mistry took charge as chairman at Tata Sons, Noel's name had done the rounds as a contender too.
Shy and low-profile Noel, seen as a contrarian in personal life and in business, has focused on Trent's profitability over scale, that other retail chains chased.
Observers believe it's that trait which may take him places in future.
At Tata Trusts, sources said he may be inducted into other trusts under its fold as well in the months to come.
The second trustee to be inducted on Wednesday, Jehangir, 65, is currently overseeing the health care mission at Jehangir Hospital, Pune, as chairman.
Hailing from a Parsi business family, Jehangir, who's on the board of several other companies, is a long-standing philanthropist.
He's expected to add heft to Tata Trusts, according to people in the know.
While the new appointments made news, it was Venkat's resignation that was being watched by who's who of India Inc.
Considered a Ratan Tata loyalist, Venkat had risen from the ranks and had assumed a position of power, managing all the trusts.
A recent order from the income-tax department had however put a question mark on his current role.
The I-T department denied tax exemption to Dorabji Tata Trust, the biggest under the Tata Trusts umbrella, over high compensation of the managing trustee.
The statement issued by Tata Trusts, chaired by Ratan Tata, on Wednesday just said Venkat had stepped down from his role following completion of a five-year term.
He will relinquish responsibilities as managing trustee on March 31.
It is learnt that Venkat would shift to another role within the group.
A formal decision on that is yet to be made. An official however denied that he could move to Tata Sons.
An international position is among the roles under consideration.
Sources also said that the structure of Tata Trusts may be altered with the CEO's position replacing that of a managing trustee.
The new CEO is yet to be appointed.
"R Venkataramanan informed the chairman and the trustees of the Tata Trusts that he had been considering other options, given that he was completing five years as the Trusts' executive trustee/managing trustee, and sought to be relieved.
"At the meeting of the trustees of the Tata Trusts held today, the trustees regretfully accepted his request," the statement said.
V R Mehta, trustee, Tata Trusts, said, "It's a normal process of governance and there is nothing out of the ordinary about it."
After the I-T department cited a violation linked to the compensation paid to Venkat while withdrawing tax exemptions, there was a question mark on his continuation as managing trustee.
On the induction of two new trustees, Mehta said, "We considered several names and finally decided on these two as these are prominent people."
Tata Trusts has set up a committee comprising Tata Trusts chairman and the recently appointed vice chairmen - Vijay Singh and Venu Srinivasan - to select a CEO.
"'We will need a CEO to oversee all the path breaking work being done by the Trusts," a trustee said.
Family business experts lauded induction of Noel Tata as a trustee. Kavil Ramachandran, executive director of Thomas Schmidheiny Centre for Family Enterprises at the Indian School of Business, said,
"To me bringing a Tata family member is very important in the sense that it reflects family's commitment to philanthropy.
"It's also important because the trustees are the custodians of the family wealth and the presence of a family member means the values remain intact."