Prices have continued to move up in Delhi's markets, wholesale and retail, on supply worries and spoilage due to record cold weather.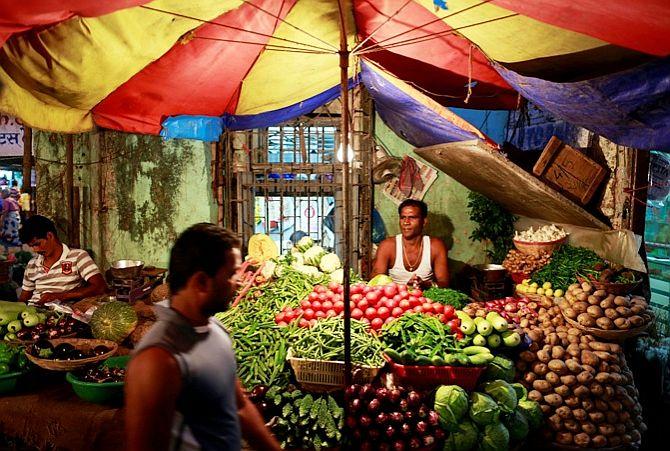 After a sharp increase in December, the prices of vegetables has moderated in this month, on increased arrivals from major cultivating states.
While announcing on Monday the consumer price index which tracks retail prices of commodities, the Central Statistics Office had reported a 60 per cent price increase of green vegetables in December.
In January, however, these have declined substantially. Data from the National Horticulture Board (NHB) under the Union ministry of agriculture show okra (ladies' fingers) prices down 33 per cent in retail trade to Rs 40 a kg in Mumbai.
Cauliflower is retailing in Kolkata at Rs 15 a kg, about 42 per cent less than the Rs 26 a kg in early January.
However, prices have continued to move up in Delhi's markets, wholesale and retail, on supply worries and spoilage due to record cold weather.
Onion is an exception, retailing in Delhi at Rs 65 a kg on Tuesday, from Rs 100 a kg only a fortnight earlier.
Prices of green vegetables have been rising since October but almost doubled in December on reports of kharif crop damage in Maharashtra due to floods and delay in planting of the rabi crop on unseasonal rain in other agrarian states.
"Planting of rabi vegetables were delayed by four to six weeks on high soil moisture, following intermittent rain during the post monsoon season.
"Supply in large quantity has started only in the past two weeks.
"The moderation in price will continue with the steady increase in arrivals," said Arun Kale, secretary of the Agricultural Produce Market Committee at Nashik.
New-season arrivals of most vegetables have jumped by 50-100 per cent in the first two weeks of January.
The earlier increase in prices had prompted many farmers across the country to sow more.
Availability of quality seeds, fertiliser and pesticides also helped yield a better crop this season.
Favourable agro-climatic conditions helped.
"Vegetable prices would decline in the coming weeks as arrival of the rabi crop has started coming into mandis (wholesale markets)," said Sriram Gadhave, president, Vegetables' Growers Association.
"Most of the benefit from vegetables' price rise has gone to traders and arhatiyas (middelmen) due to their deep pockets.
"They procure from farmers at low price and sell to mandis or bulk consumers at high prices," says Santosh Patil, chairman of the Vasantdada Market Yard at Sangli.
Adding: "Opportunistic farm loan waivers are not going to solve farmers' problems.
"While input prices and labour cost have gone up significantly, farmers' realisation remains low.
"The government must focus on how to increase farmers' income in other ways."
Photograph: Danish Siddiqui/Reuters