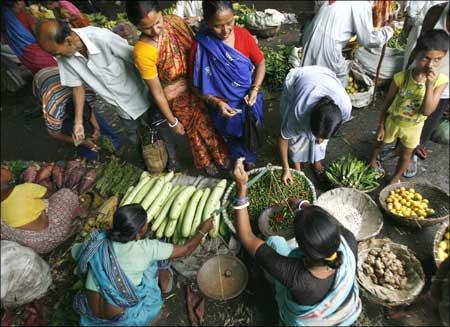 Vegetable prices have risen around 150 per cent in the last two weeks due to a sudden spurt in stockists demand ahead of the festival season.

The price of export quality lady's finger, for example, shot up 150 per cent in two weeks to close on Thursday at Rs 40 a kg against Rs 16 a kg on September 16 in the Agricultural Produce Marketing Committee, Vashi, near Mumbai.

The medium quality of lady's finger for domestic consumption was quoted at Rs 30-35 a kg against Rs 12 - 15 a kg a fortnight ago.

Vegetable price rise assumes significance as it helps increase primary food inflation and also adds to the wholesale price index as indicated by the ministry of finance recently.

The ministry attributed the recent rise in food inflation to a significant 78 per cent increase in vegetables prices.

"The last leg of this season's rainfalls has left very high moisture in the field affecting, thereby, harvesting of standing crop in major growing areas, including Nashik, Pune, Jalna, etc.

Since these regions contribute 70 per cent of Vashi APMC's total normal arrival of around 500 vehicles (average 9 tonnes each), farmers failed to harvest the standing crop leading to supply squeeze," said Avinash Patil, deputy secretary and head vegetable section, Vashi APMC.

Total vegetable supply into Vashi APMC, therefore, has declined from the normal 700-750 vehicles in the peak harvesting of this time around to 502
vehicles on Thursday.
Two weeks ago, total supply was recorded at 600 vehicles.
The second important issue is the total halt of supply from Gujarat. Around 15 per cent of vegetable supply comes from Gujarat where fields have been flooded due to the recent spell of heavy rainfall.
"Instead of we receive supplies from Gujarat, we are supplying to them currently. So, demand has increased without proportionate supply increase.
"Hence, the price of vegetables has risen sharply," said Patil.
Normally, the retail consumer demand of vegetables upsurge during the inauspicious 15-day period of 'Pitri Paksha' and continues throughout the season.
Being the lean farm gate supply, the availability remains tight throughout this one-month period.
In a significant move, exporters have started procuring directly from farmers of the export quality products now instead of lifting of the desired quantity from APMC.
Hence, overall supply remained lower to mandis not only now but also for future as the quantity not contracted by exporters or rejected by them would be supplied to the APMC, said Ramesh Hiwale, a Vashi based trader.
Considering between 15 and 20 per cent wastage in major vegetables, the price should have been much lower for consumers than they currently get.
Anyway, vegetable prices are expected to come down in the next 10 days with restoration of normal supply from Gujarat and hinterland of Maharashtra, said Patil.