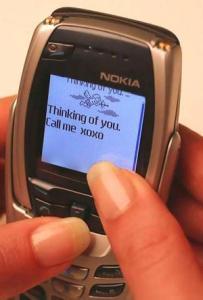 For 29-year-old VV Raju, now the chief executive officer of Hyderabad-based free messaging portal www.way2sms.com, embarking on a business outside the then booming FMCG sector was the ultimate goal after completing his masters in computer application from Nagarjuna University in 2003.
"I had realised that the FMCG industry was just not right for me as in this I needed to invest a good amount to steer my business successfully. And, hailing from a family with an agricultural background, I thought my investment capabilities would not allow me to think of an investment-oriented business.

"Later, I spent nearly eight to 10 months on evaluating various business models," recalls Raju.
A regular visitor to the the Small Industries Service Institute's library in Vijayawada, where he was brought up, Raju browsed through various books and business journals and zeroed in on an idea that required more thought-processing and innovation and less investments.
"I found mobile and web as the right domains to execute ideas and make them viable in terms of reach and revenues. I convinced my friends and relatives and mopped up about Rs 500,000 and started Way2Online Interactive India Private Limited in 2004 to provide enterprise messaging services to corporate clients," he says.
When Raju started his business, there were big players in this space like Valuefirst and ACL Wireless. Raju recollects, "I didn't see much trade during the first 18 months, but my company was gaining a few good financial clients. It was then that I decided to start with something more innovative. And, that is how www.Way2SMS.com came into being in December 2006."
For this first-generation entrepreneur, it took almost a year to plan and gather financial resources to conceptualise and launch Way2SMS in December 2006. Today, Way2SMS is India's leading advertisement-based free SMS service.
"Way2Online is just a parent company and Way2SMS.com is now our popular brand, offering free SMSs to users with advertisements appended with each SMS that has been sent out. We call this as 'mobitisement'. We recorded a turnover of Rs 5.86 crore (Rs 58.6 million) last year and are targeting to achieve Rs 14 crore this financial year," Raju says.
Currently delivering 90 million free SMSs a month to India from across 156 countries through over 500 networks globally, Way2SMS is now planning to replicate its business model in other countries such as UAE, Singapore, Saudi Arabia and Kuwait during this financial year.
"Many companies had tried to mimic Way2SMS later. However, what makes us stand apart from others is our technology and services. Currently, we have over 4.9 million users and are growing at 18,000 new users every day. We now have the capability to handle high-performance messaging systems that can process 1,000 SMSs per second. On a busy day, we deliver more than 250,000 SMSs per hour," says Raju as a matter-of-factly.
Raju, who terms his business as not just an advertisement-based service but as an 'advertisement-funded business', says that his target is to reach out to 80 million unique mobiles, representing 25 per cent of the total mobile user base in India, by the end of the current financial year from the present 30 million a month.
Ask him whether he has any de-risking strategies in place as more and more telecom operators are offering free SMSs with many others to follow suit, pat comes the reply: "I don't consider any competition from the telecom operators as we work closely with them. We have already partnered Airtel and Tata Indicom, and corporate clients such as Citi Bank, Tata AIG, Future Generali, ICICI Bank and Lenovo, and many more are in the pipeline. My users come from the top of the pyramid -- people who are net savvy.
"Also, telecom operators charge top-up fees for free SMS packages. This helps us acquire and retain users."