Public general insurance companies to collaborate for speedy settlement of claims

Flashfloods in Uttarakhand, which have claimed the lives of over 500 people in the past few days, have also got insurance companies preparing for settlement of claims. Both life and general insurance companies, the local offices of which today met in Dehradun informally, said their teams were ready to process claims quickly.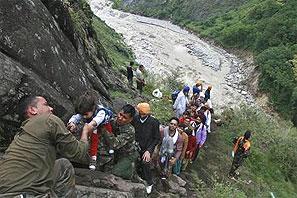 Sanjay Datta, chief (underwriting & claims), ICICI Lombard General Insurance, said the claims had not yet started pouring in but the industry was in the process of procuring more information on the nature of losses.

Property insurance, shop and commercial insurance are expected to be the big claim areas. These cover policy-holders against the perils of damage to property due to man-made incidents or natural disasters. Insurers said corporate presence in the areas damaged by floods and landslides was low but the destruction with respect to infrastructure would be on the higher side.

"We have started receiving claims for the construction & engineering-related segment," said a senior official of a public sector insurance company.

In the wake of the disaster, the four public general insurers - National Insurance Company, New India Assurance, Oriental Insurance and United India Insurance - are planning to jointly assess and settle claims.

Experts said other segments like motor could also be hit. Bharti AXA General Insurance MD & CEO Amarnath Ananthanarayanan said damage to property was certain but the extent of impact on motor was yet to be known. "At this point, we are at the service of customers 24x7 to settle claims. Since the situation is still critical, we are also educating customers on how to deal with the natural calamity," he said.

Sector experts said life insurance claims would not be high, despite the scale of the disaster, as insurance penetration in the country was very low.

"The moment the claim is received by us, we will ensure it is settled in a fair and transparent manner in the quickest way possible. We have begun the processes to make sure claim settlement is not delayed," said a senior Life Insurance Corporation of India official.

According to officials, a claim in the case of a person's death is normally settled only after his body is recovered and a death certificate is issued by a certified doctor. However, special consideration could be made in situations like these.

Catastrophe insurance is not yet mandatory in India. It is a segment the insurance industry has been discussing for almost two years now. Non-life insurers recently presented a concept paper to the National Disaster Management Authority highlighting the need for a pool mechanism to deal with losses from catastrophes. However, insurers say it will take long before the system is implemented in India.

At present, there are covers to protect property and life from incidents like fire, floods and earthquake but there is no such option as 'natural catastrophe cover'. When such an event occurs, both insurers and re-insurers have to make high payouts to cover the losses.

A pool-based concept was mooted by the finance ministry and later backed by general insurers, too.

If a pool is formed, on the lines of the terrorism-pool in India, the losses could be distributed evenly. The pool would comprise regular premiums to be paid by common citizens, with or without additional government funds infused in it.

"It is clear that the quicker we get the pool in place, the better for us," said Ananthanarayanan.

According to Aon Benfield's Annual Global Climate and Catastrophe Report, India suffered an estimated economic loss of Rs 1,517.1 crore (Rs 15.17 billion) from natural disasters in 2012. These included floods (India and Bangladesh) and Cyclone Nilam (India and Sri Lanka).