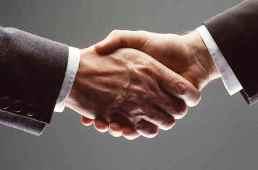 Trade between India, Brazil and South Africa is set to grow to $25 billion by 2015, as the three key emerging economies have decided to remove non-trade barriers and improve maritime and air connectivity.

Commerce ministers of the three countries, who met in Pretoria on Tuesday, also decided to hold formal annual trilateral talks to boost intra-IBSA trade.

Commerce and Industry Minister Anand Sharma, who is accompanying Prime Minister Manmohan Singh to the IBSA Summit, offered to host the first trade ministers' meeting in New Delhi next March.

"The leaders at the IBSA Summit felt that the trends indicate that the target of USD 25 billion trade by 2015 will be achieved early," an official said.

Currently, trade between the three nations amounts to about $20 billion.

The three countries can not only open their markets, but also become gateways to each other by aligning the existing free trade agreements among some Southern African (Southern African Customs Union) and Latin American countries grouped into the MERCOSUR trade bloc, it was felt.

The MERCOSUR members are
Brazil, Argentina, Uruguay and Paraguay. The Southern African Customs Union consists of Botswana, Lesotho, Namibia, South Africa and Swaziland.
After Sharma's meetings with his South African and Brazilian counterparts, the official-level Working Group on Trade and Investment was asked to examine all issues relating to non-tariff barriers, maritime and air links and opportunities for investment.
Visa-related issues were also discussed.
It was felt that direct air connectivity would give tourism a major boost.
The ministers also decided to set up a technical team to reconcile trade data and devise a common reporting format.
Because of different methodologies of capturing trade data (calendar year vs financial year), the numbers vary at times.
Furthermore, the South African and Indian trade ministers decided to enter into long-term contracts for the purchase of raw materials and commodities.
The three ministers also agreed to meet before the next World Trade Organization Ministerial conference in Geneva in December to coordinate their position on all issues.
The three nations are mostly following a common stand for the Doha round of WTO talks.