US Senator Mark Warner, co-chair of the Senate India Caucus, while lauding the burgeoning Indian investment in the US, has urged Indian companies to also explore making such investments in the American heartland instead of the traditional areas in order to change misperceptions on globalisation.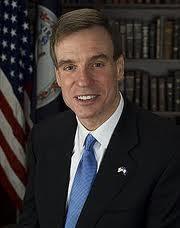 Warner, a Democrat - who since taking over as co-chair of the India Caucus, has increased its membership to 40 senators from a handful in the past several years, kicking off the third Brookings-FICCI Strategic Dialogue on US-India Relations - said, "I have been very proud over the years to promote Indian direct investment in the US."

But, he said, "My appeal has always been to encourage my Indian business colleagues, as they look at investing in the United States, to urge them to look beyond the regular - the traditional areas."

Warner, an erstwhile governor of Virginia, who at the time led the largest-ever trade delegation to India, and himself a multimillionaire entrepreneur who co-founded the cellular telecommunications company Nextel, exhorted that "Indian businesses looking at investment in the United States, need to look beyond Northern Virginia, or New Jersey, or Northern California, or the areas where there are already large established Indian and business communities."

"The value in Indian business investing in more rural communities and areas that have not seen the benefits of globalisation is enormously powerful," he said.

Warner pointed out how when "we brought to Southern Virginia, Essel Propack (an Indian company that manufactures laminated plastic), who are polymer manufacturers, this was into a community that was vehemently anti-trade because its traditional industries had been tobacco, textiles, furniture - not exactly industries that have long term, prosperous futures in recent times in the United States."

But he said, "Essel Propack came down, put a polymer manufacturing facility in rural Virginia in Danville, and now it has grown three expansions over the last 10 years. It has about 400 employees right now, and the whole community's view on trade and globalization has changed because they've seen the benefits coming in both directions."

Warner also said that "there is more that can be offered and as we think about the tremendous growth of Indian back-office operations in the IT sector, if we can figure out a way to do a back-office operation in Bangalore, we should also be able to figure out a way to do a back-office operation in Martinsville, Virginia."

He said if Indian companies break these barriers it would be both "in Indian companies' self-interests as well as overall commercial self-interest, if we can strengthen these ties, particularly in rural communities."

Earlier, in his remarks, Warner acknowledging how remarkable it has been to see the growth in the bilateral relationship in the past decade, said that while every politician starts with the hackneyed cliché that the US and India are the world's oldest and world's largest democracies respectively, it was remarkable that today Washington and New Delhi "are friends, allies and partners, because that really wasn't so true until the last 20
years."
He said, "Now the main theme should be, how do we move this relationship that has evolved into a strong friendship, into a strong partnership because friends can agree and disagree, but partners do more than have photo-ops, do more than announce big deals, they actually work through the details of a tremendously binding relationship that will allow our countries in closer and closer together because it is in both our countries seldf-interest to increase this opportunity."
Warner said that as co-chair of the India Senate Caucus, he hopes to use this bully-pulpit to contribute to cementing this partnership and acknowledged that "it's time for the role of the Caucus to expand not only in terms of the number of senators, but make sure that we are in regular communication with friends of the US-India relationship, particularly as we build our business relationships."
"What we also hope to do with the Caucus is to build out and use this as a kind of conduit for the growing Indian American community all across the country," he said, and added, "We really think this is an opportunity where the Caucus can be one of these voices for Indian Americans not only in terms of direct policy issues, but cultural, educational and other opportunities as well."
With regard to increased educational opportunities, Warner said, although "I have been appropriately informed we may need to spend some more time waiting for legislation to get through at the national level, there exists a great deal of opportunities for American educational institutions to partner with directly with Indian states and as a former governor, this is an area that again, we in the Caucus can help accelerate those ties."
He also said "something the US-India Business Council has talked about is the notion of that we ought to brush off and re-look at the notion of bilateral trade agreements and how we elevate them those now."
"The question of how far do we get towards, does this path lead ultimately towards a free trade agreement between the US and India. That should be a long-term goal, but there are immediate steps that we can take in terms of looking at bilateral trade agreements and increasing opportunities and do as much as possible to lower some of the frictions," he said.
Warner also acknowledged that "we need to sort through our immigration and visa challenges," and acknowledged the "great concern over the H-1B visas."
"So, let's look forward on how we can continue to broaden H-1B opportunities. Let's look forward as well on - one of the things I am strongly supportive of - the entrepreneur visa. Lowering that threshold from $1 million to $500,000."
Warner argued that "this is again good for joint collaboration between our two countries and as we struggle with slightly lower growth rates in the US and India - opportunities to create American jobs - even as we need to sort through comprehensive immigration reform."