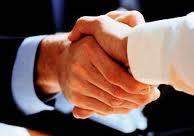 US Vice President Joe Biden's ongoing visit to India sends out a strong signal, the US is keen on strengthening its economic ties with India.

The White House too has said that Biden's trip is aimed at giving a new thrust to bilateral economic and strategic engagement.

Biden, who arrived in India on Monday on a four-day maiden visit, held comprehensive talks with Prime Minister Manmohan Singh.

The two sides discussed ways to boost trade ties, with Biden expressing concerns of American companies and stressing on the need to remove hurdles to do business in India.

On his part, Singh also emphasised the need for greater commercial engagement for India to meet its own quest for economic growth.

Prime Minister will undertake a bilateral visit to the US from third week of September and will meet President Barack Obama apart from attending
the UN General Assembly in New York.
"The message that the Vice President is carrying (from the President) in his meetings with Indian officials, is that we want to continue to enhance our economic and strategic engagement with India," the White House Press Secretary Jay Carney told reporters.
"There are enormous opportunities for our two countries to work together and to work together even more closely than we have as this relationship has evolved in a positive direction now for so many years," Carney said in response to a question on Tuesday.
"When it comes to economic growth, trade, energy and climate change, as well as security issues and education issues, there's a lot that the Vice President is discussing in India," he said.
"So I know, having spoken with him before he departed, that he was very much looking forward to this trip.
"He and the President highly value our relationship with India, and are looking for ways to make it even stronger and more cooperative," Carney said.