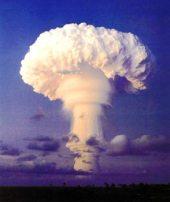 Stakes in India's nuclear power generation programme are among the highest in the world. With plans to generate 60,000 MWe (megawatt electrical) by 2030, up from just 4,120 MWe on Thursday, India will need more than 50 nuclear reactors, allowing for a generating capacity of 1,000 MWe each.
Since $4-5 billion (Rs 18,670-23,340 crore) will be needed to set up each nuclear reactor, capital costs alone add up to $200-250 billion (Rs 9,33,600-11,67,000 crore). Then there are fuel costs, nuclear waste disposal, reprocessing, consultants & advisors and, of course, the financial market aspects of raising all that money.
For the Russian and French state-owned nuclear power industries, the Nuclear Suppliers Group waiver that followed the US-India nuclear deal opened the doors to the Indian market. But America's private corporations -- including GE-Hitachi and Westinghouse, the technology source for two-thirds of the world's operating nuclear reactors -- are still held back by US laws.
And so, even as Russia and India signed an agreement last week on Co-operation in Peaceful Uses of Atomic Energy in Moscow, an American delegation of 50 top executives from that country's leading nuclear suppliers began a six-day visit to India.
Three steps to business
Just three steps remain to be taken before they can commence business with India: An Indo-US agreement on reprocessing nuclear fuel; a Part 810 Assurance that India must provide for safeguarding technology; and an Indian liability law to cater for nuclear accidents.
The first of these, the Reprocessing Agreement, is not required by US law, but India insisted that both countries sign this agreement so that, even if Washington imposes sanctions, India's fuel supplies remain assured.
Both sides hoped to sign it during Prime Minister Manmohan Singh's visit to the US last month. The final draft, however, is believed to be ready now. Washington has only signed reprocessing agreements with Japan and Euratom; both took years to negotiate.
The second step remains the Part 810 Assurance, which the US department of energy requires from foreign governments that wish to source nuclear materials or technologies through US companies. Licences are issued to US suppliers only after the recipient government pledges to use the acquired technology exclusively for peaceful purposes and that it will not re-transfer it to another country without the consent of the US government.
The final step remains the enactment of a Civil Liability for Nuclear Damage Bill, which has been passed by India's Union Cabinet and will be introduced in Parliament during the winter session.
This domestic legislation is essential for India to join the Convention on Supplementary Compensation for Nuclear Damage, a worldwide liability regime for paying enhanced compensation in the event of a nuclear accident or disaster.
The CSC functions like an insurance mechanism, with member countries paying an annual amount based upon their nuclear power generation capacity. In the event of a major accident, the CSC assists in the payment of enhanced compensation from a global pool, which is maintained through annual contributions from member countries.
This legislation specifies that legal jurisdiction in the event of an accident will lie within India. The domestic liability bill forms the first tier of compensation, which is handled in-country.
Tier-II compensation, in the event of a major accident, is paid through the CSC. While imposing a limit of approximately $450 million (Rs 2,100 crore) on the compensation payable in an accident, this framework guarantees speedy disbursement of compensation.
'All three close to settlement'
Each of these three requirements, believes the US delegation, is close to settlement. Ted Jones of the US India Business Council, which has brought this delegation to India, points out: "Though Washington and New Delhi signed the 123 Agreement a year ago, the process only began in July 2009 because of elections in both countries. But since Hillary Clinton's visit in July, we are already on the brink of resolving all three implementation issues."
While Russian and French nuclear suppliers -- Rosatom and Areva respectively -- have begun early, the US delegation in New Delhi does not believe it is missing out in the Indian market.
"We spoke yesterday to R Chidambaram, the PM's scientific advisor, and it is clear that there is space for everyone," said one American executive. "India needs multiple sources, multiple partners and multiple technologies. India needs to do business with everyone to meet those needs."