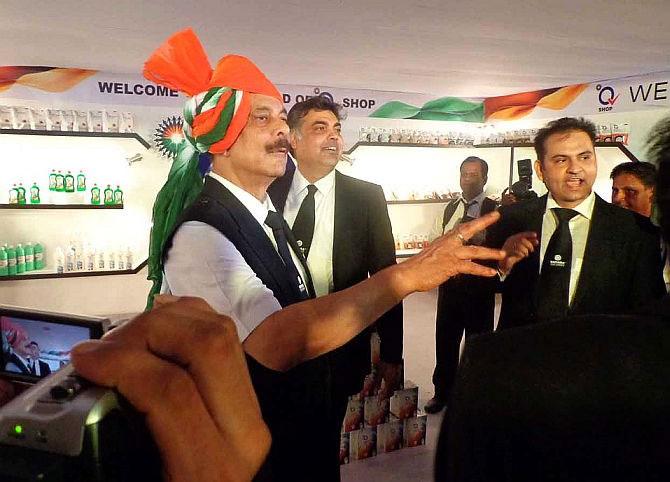 In fresh troubles for Sahara, a US court has issued show-cause notice to the group in connection with a $350-million lawsuit seeking attachment of its two prized hotel assets here -- Plaza and Dream Downtown.
The lawsuit has been filed by Hong Kong-based JTS Trading Ltd, which had proposed to partner UAE-based Trinity White City Ventures and arrange loans from Swiss banking giant UBS to acquire the crisis-ridden Indian group's three overseas hotels -- Grosvenor House in London and the two in New York.
In the lawsuit filed with the Supreme Court of the State of New York against Trinity, Sahara and UBS, JTS has now alleged that Trinity cut it off from the deal for direct negotiations with Sahara. JTS has also accused Sahara and UBS of having 'aided and abetted' the UAE firm in breaching its 'fiduciary duties' under their agreement.
Looking into the suit, the court has now passed an 'order to show cause', asking Sahara India Pariwar to show cause in the court on July 8 why 'an order should not be made' for attaching the group's interest in the Plaza and Dream Downtown hotels in New York.
There were no reply to queries mailed to Trinity and JTS in this regard, while an UBS spokesperson said the bank had 'no comment' to offer on this matter.
When contacted, a Sahara spokesperson said the group is not doing any business with Trinity.
As per the documents filed with the court by JTS, it had formed a venture with Trinity earlier this year to buy the three hotels from Sahara, which has been seeking to arrange funds to ensure release of its chief Subrata Roy and two other top executives from Tihar Jail in New Delhi.
Under the proposed arrangement, JTS was to invest $850 million for a 70 per cent stake in a private equity fund for the acquisition, while Trinity was to contribute $250 million for a 30 per cent stake.
UBS was to provide senior debt facilities for the transaction.
JTS, which also claimed having been appointed 'exclusive arranger of fund', further said that the proposed 'Sahara portfolio' transaction was earlier pegged at $1.1 billion, but later it was revised upward to $1.5 billion.
JTS further alleged in the lawsuit that it was cut off from the transaction at a later stage and Trinity entered into direct negotiations with Sahara with the help of the Indian group as well as UBS.
"Plaintiff (JTS) has been denied its rights under the agreement as the intended 70 per cent owner of the general partnership, including but not limited to various management
fees which cannot presently be determined but which are estimated would have been in excess of $350 million, as well as the anticipated increase in the value of the target properties," as per the suit.
Interestingly, Sahara group earlier this month announced that it has reached a deal with another party, Reuben Brothers, for transfer of its existing debt from Bank of China on the three hotels -- thus averting a 'default-triggered' sale of the iconic Grosvenor House hotel in London.
The Grosvenor House hotel was put on sale by its lender Bank of China earlier this year after a 'technical default'.
Image: Sahara group chief Subrata Roy; Photograph: Reuters