Hundred days is too short a time to judge anyone, more so a new government battling an economic slowdown, an epidemic that is testing the country's stretched public health infrastructure, and lower seasonal rains that threaten to shave half a per cent off the economic growth and hurt rural spending.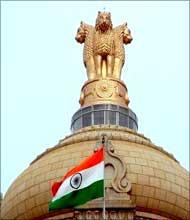 Yet, the government cannot escape a scrutiny of its performance in the first 100 days, which it completed on Saturday, especially because it had laid out a detailed agenda for the period, one that was reiterated by President Pratibha Patil in her address to Parliament on June 4.
To cut to the chase, it's been a mixed bag. The government was able to initiate crucial steps in the ministries of rural development, human resource development, home, finance and commerce, thanks to energetic ministers, but did not exactly win laurels on other fronts.
The government's handling of the swine flu, rising food prices and drought, and the slip-up on Balochistan at Sharm-el-Sheikh blotted its report card.
Bharatiya Janata Party, battling its own demons, is nevertheless quick to take a dig. "The government has failed to live up to the expectations of the people and its own promises. They made 25 promises, but, barring a couple, have done little on others," said BJP spokesman Prakash Javadekar.
A lot depends on how one interprets the promises. The President's speech was careful in saying that the government would "initiate" steps on some measures - not complete the task - in the first 100 days. "Initiatives have been taken on 25 items. Twelve of them are being monitored by the Prime Minister Office, the rest by the respective ministries. A quiet competence is at work," said a PMO spokesman.
A major plank in the government's 100-day agenda was to bring about transparency and accountability by improving the delivery of government-administered schemes. Eleven out of 25 proposals focused on this. But a quick review by Business Standard reveals that there has been little or no progress on most.
Take decentralisation and district planning in 250 districts covered by the Backward Regions Grant Fund. These district plans were made last year, in coordination with NGOs and academic institutions. Till date, none has been implemented.
Despite the urgency in the rural development ministry for decentralised planning, no other ministry has initiated steps towards this. "Every ministry has its own independent plans made at the district level for their schemes, making the integrated district plan irrelevant," says Manoj Rai, director, Society for Participatory Research in Asia, an NGO that made plans for 14 districts last year.
The second promise on transparency was a public data policy to place all information covering non-strategic areas in the public domain. It would help citizens challenge the data and engage directly in governance reform.
The National Rural Employment Guarantee Scheme is the only one that has placed all data on its activities, including individual payments made to each worker, on its website. The third was to appoint district-level ombudsmen to increase transparency and public accountability of NREGA. The ombudsmen were supposed to enforce social audit and ensure grievance redressal.
Till date there has been no move towards creating this institution. Nikhil Dey of Mazdoor Kisan Sangharsh Samiti and an activist on NREGA and Right to Information, said there had been no progress on the ombudsmen. He said if the ombudsman was not empowered to investigate, like the RTI commissioners, setting it up would be futile.
The fourth promise on transparency was to strengthen the RTI Act by "suitably amending the law to provide for disclosure by the government in all non-strategic areas." Nothing has been done on the promised amendment, but it doesn't make a difference.
"All that the government needs to do is implement the RTI Act and nothing more," said Dey. Section 4 of the RTI Act has enough teeth to take care of all the disclosures the government is promising.
"If every single financial transaction were to go on the internet (be it the purchase of 10 nails or a Rs 3,000 crore (Rs 30 billion) deal), that would be implementation of Section 4 of the RTI Act," Dey said. "If the Rs 40,000-crore (Rs 400 billion) NREGA scheme can be totally on the net, why not other schemes?"