Unseasonal rains watered down the performance of consumer durables companies as temperatures cooled, impacting the sales of refrigerators and air conditioners (ACs) in the 2023-24 (FY24) April-June quarter.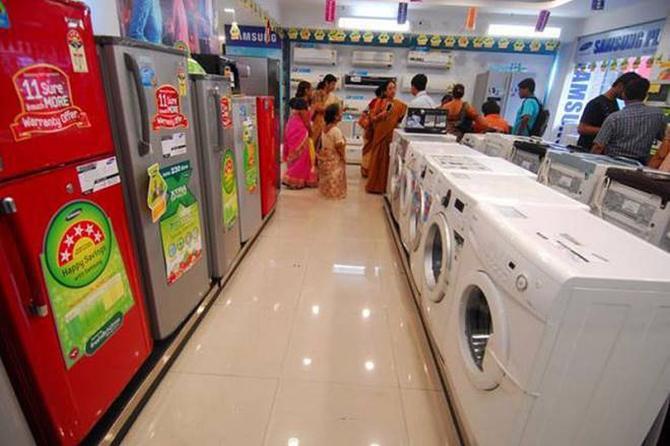 Centrum says in its report on the sector that the trade channel indicates a 25-30 per cent year-on-year (YoY) decline in sales of refrigerators and ACs in April and May due to restricted buying.
"While some green shoots in demand were visible in June, overall growth for the quarter is likely to remain at a negative 10–12 per cent," observes the brokerage.
The brokerage also says that demand remains impacted in semi-urban areas due to inflationary pressure on consumer spending, leading to lower footfall across stores.
"Pricing pressure remains intense, especially in the mass and economy segments, as entry-level brands aim at grabbing market share through aggressive pricing, while premium brands have also forayed into the mass category through tactical price reduction," it says.
Axis Capital says in its report that premium products outperform the economy.
It also says, "Cables, switchgear, and business-to-business lighting are likely to be relatively better this quarter for the companies we cover."
It expects Voltas to deliver 11 per cent YoY revenue growth, led by 65 per cent growth in electromechanical projects and services due to a favourable base.
The brokerage also expects Crompton Greaves to report 10 per cent YoY revenue growth, led by 10 per cent growth in electrical consumer durables, led by market-share gains in fans and pumps, Butterfly Gandhimathi Appliances, and 8 per cent growth in lighting.
The brokerage also says it will look out for commentary from companies in the sector on demand trends, competitive intensity, and margin expectations.
Nirmal Bang highlights in its preview of the sector that it expects a moderate top-line growth of 11.8 per cent YoY due to lower offtake of refrigerators and ACs, fans, and air coolers in consumer durables and a moderate top-line growth of 10.1 per cent YoY in consumer electronics.
"Healthy growth in wires and cables is expected to be offset by tepid growth in consumer lighting and other business-to-consumer electrical products," says the brokerage.
On margin expansion in the sector, Nirmal Bang states in its report, "Consumer durables and consumer electricals are expected to post 20-basis points (bp) YoY/30-bp YoY margin expansion.
"While the consumer durables portfolio is expected to witness operating deleverage, the same will be offset by easing raw material costs, the benefit of backward integration, and a higher contribution from premium products."
The brokerage also expects the revenues of a few companies to get a leg-up on YoY basis as they opt for the government's production-linked incentive (PLI) scheme.
Higher backward integration (on the back of PLI schemes) and the expansion of the premium product portfolio are expected to enhance operating margins.
Benefits from falling commodity prices are expected to be offset by a sharper depreciation in the rupee/dollar, it says.
It also says, "A significant boost in government capital expenditure allowance in the FY24 Union Budget, as well as a pick-up in the domestic real estate sector, is expected to boost demand for ancillaries such as cables, wires, lighting, switches, switchgear, etc."