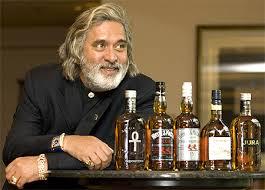 Vijay Mallya slowly losing control of the beer firm
The Diageo-owned United Spirits Ltd on Tuesday sold 3.21 per cent stake in United Breweries Ltd, India's largest beer company, for Rs 872 crore (Rs 8.72 billion) to Heineken International BV, the co-promoter of the beer company.
With this, Heineken's stake has risen from 39 per cent to 42.2 per cent, while the UB group's stake will stand at 32.6 per cent.
In a statement, USL said it sold 8.5 million shares at Rs 1,030 a share through block deals.
The book value of USL's stake was only Rs 15 crore. USL said with this sale, it ceased to be a promoter of United Breweries. Through the sale, the company has managed to cut its losses substantially.
Analysts said with Heineken increasing its stake in UBL, cash-strapped Vijay Mallya, chairman of the UB group, is slowly losing control over the beer company, too. In 2012, Mallya had sold United Spirits to Diageo for $2.1 billion.
Bankers said United Spirits was also in talks with the Sajjan Jindal group to sell its cricket team, Royal Challengers Bangalore, for about Rs 400 crore. Currently, talks on the team's valuation are underway.
Reacting to news of the stake sale, USL shares closed two per cent higher at Rs 3,499 a share, while the UB stock closed at Rs 1,014, up one per cent.
In a statement to stock exchanges, USL said Heineken International BV was named the promoter of UBL, according to the latest shareholding pattern available on exchanges.
"Further, Heineken is not a related party of the company and this sale does not constitute a related-party transaction," it said.
This disinvestment was part of a process of monetising certain non-core assets of the company, as disclosed in October last year, USL said.
United Spirits and Mallya are locked in a fierce battle over alleged fund diversion worth Rs 2,100 crore (Rs 21 billion) by Mallya's entities from United Spirits.
According to Diageo, the fund diversion took place before it took over United Spirits.
At a board meeting in April this year, USL had asked Mallya to quit its board as chairman but a defiant Mallya refused.
In April, USL had said it would complain to regulators about the alleged fund diversion.
But Mallya hit back, saying USL had signed the takeover agreement with its "eyes wide open", adding it couldn't complain about the deal after three years.
The Securities and Exchange Board of India, the Ministry of Corporate Affairs and the Institute of Chartered Accountants of India are investigating Diageo's allegations of fund diversion against Mallya.
In December 2013, Heineken had bought 1.35 per cent stake in UB from Mallya for Rs 275 crore (Rs 2.75 billion).
At that time, both Mallya and Heineken held stakes of 37 per cent each.