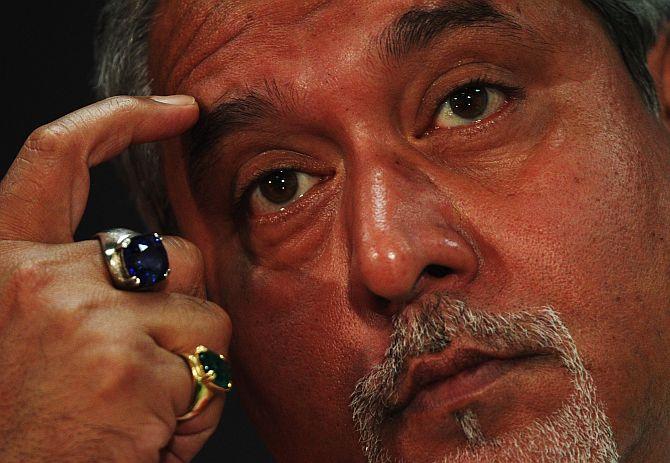 Institutional investors and proxy advisory firms have questioned United Spirits Ltd (USL)'s move to ratify related-party contracts/agreements entered into with entities associated with Chairman Vijay Mallya.
These agreements were inked by USL just a month before it was sold to Diageo in 2012.
The company, which sells popular liquor brands such as VAT 69, McDowell's, Signature and White Mischief, is seeking shareholder approvals for 12 resolutions.
Of these, 11 relate to transactions with related parties. Nine of these 11 transactions were signed on October 11, 2012.
Proxy advisory firm Stakeholders Empowerment Services (SES) questioned the timing of these transactions and advised shareholders to seek an investigation by the market regulator.
A couple of top institutional investors are also said to have expressed concern on the management.
As of September, schemes of several top mutual funds, including State Bank of India Mutual Fund, Reliance Mutual Fund, Birla Sun Life Mutual Fund, DSP BlackRock and UTI Mutual Fund held USL shares.
In a report, SES said, "The date October 11, 2012, is material, as on November 9, 2012, Diageo announced its agreement to take over USL. SES raises question as to what was the reason for the sudden barrage of transactions.
SES would like shareholders to approach the securities market regulator, the Securities and Exchange Board of India, to investigate the motive and ensure these transactions were not entered into to deprive non-promoter shareholders of fair treatment."
The agreements include three with United Breweries and one with Diageo. Apart from these, USL also had deals with private companies such as an aircraft services agreement with UB Air; an advertising deal with Mallya's Formula One venture, Force India; sponsorship agreements with Mohun Bagan and United Racing; and a service agreement with Kingfisher Finvest.
Nine of the 11 transactions were approved by the board on the same date, October 11, 2012. The share purchase agreement between Diageo (along with PAC) and UB Group was announced on November 9, 2012.
These transactions have come for shareholders approval because of requirements under the new companies law and amended listing agreements.
The SES report also raised concern on the propriety of a particular clause in some of the agreements, contingent upon the continuance of Mallya on the USL board.
"A couple of transactions have a clause that the underlying contracts are valid till Mallya is on the board as chairman and non-executive director of the company. SES raises a fundamental question as to whether the transactions are for benefit of the company or Mallya.
How can the company agree to such terms? Are the services being provided such that these can be provided only by the contracting companies? Are these personal in nature and for the benefit of Mallya? Is this indirect remuneration to Mallya?
Can these transactions be at arm's length?" asked SES.
Responding to the questions, a USL spokesperson said, "All the transactions being proposed for approval at USL's extraordinary general meeting are existing and legally binding contracts."
"They are valid, legally binding commitments of USL, prepared in accordance with applicable laws and regulations at the relevant times they were entered into."
The spokesperson added these are being presented for approval to USL shareholders now because of application of a provision of the new Companies Act and listing agreements, which require these agreements to be presented for ratification by shareholders.
This, the spokesperson said, was despite the fact that the legislation was enacted after the date on which these contracts were validly executed.
"The consequences of non-approval by shareholders of these legally binding contracts are extremely unclear. It could leave USL in an extremely difficult position, with the risk that potential disputes could arise with counterparties under these existing arrangements, were USL not to continue to fulfil its obligations under the agreements," the spokesperson added.
"It might also lead to USL being unable to have the benefit of the various rights and benefits it is currently entitled to under such agreements."