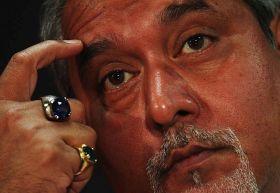 State-run United Bank of India today became the first lender to declare debt-ridden Kingfisher Airlines and its promoter Vijay Mallya as wilful defaulters.
"We have declared Vijay Mallya and three other directors of Kingfisher Airlines as wilful defaulters," United Bank of India Executive Director Deepak Narang told PTI.
The Grievance Redressal Committee (GRC) of the bank has declared directors Ravi Nedungadi, Anil Kumar Ganguly and Subash Gupte as wilful defaulters.
Post this declaration, these persons and the entity would not be able to borrow from the bank in future.
They would also lose Director-level positions in companies. Criminal proceeding could also be initiated against these persons if warranted.
Narang said the decision of GRC would be conveyed to the Finance Ministry, Reserve Bank of India, and Securities and Exchange Board of India for their information and action.
The GRC meeting was convened today after a Calcutta High Court division bench allowed the bank to initiate the process of declaring them as wilful defaulters last week.
The GRC had asked directors to be present before it but no one turned up.
Instead, they had sent a letter through their lawyer stating that they had filed a Public Interest Litigation (PIL) in Supreme Court and pending the judgement the bank should not proceed in this regard.
The Kolkata-based bank is the first PSU lender to initiate the process of declaring Vijay Mallya and three other directors of the grounded Kingfisher Airlines as wilful defaulters a couple of months ago.
Subsequently, other banks such as State Bank of India, IDBI Bank and Punjab National Bank have also initiated the process of declaring KFA and its directors as wilful defaulters.
The bank's exposure to Kingfisher Airlines was around Rs 350 crore (Rs 3.50 billion) as part of consortium led by State Bank of India.
The consortium of 17 banks, has an outstanding debt of about Rs 4,022 crore (Rs 40.22 billion) from the now-grounded carrier and outside the consortium, the bank gave about Rs 60 crore (Rs 600 million) loan for Pre-Delivery payment.
As part of the recovery process, banks in February last year decided to sell a portion of the collateral with them, including shares of its group companies United Spirits Ltd and Mangalore Chemicals & Fertilizers Ltd, Mallya's Goa villa, Kingfisher House in Mumbai and the Kingfisher brand, which was valued at over Rs 4,000 crore (Rs 40 billion) at the time it was pledged.
Photograph: Vladimir Rys/Getty Images