Approaches Morgan Stanley, GIC and Blackstone

Real estate developer Unitech Group, through its bankers, had approached global investors like Morgan Stanley, the Singapore government-owned GIC and Blackstone to sell its Infotech Special Economic Zone (SEZ) in Gurgaon, said sources in the know.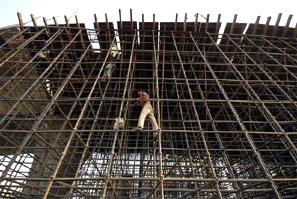 According to realty experts, the 3.6-million-sq-ft project at Dundahera in Gurgaon could have an estimated value of around Rs 1,800 crore (Rs 18 billion).

"Their bankers have sent feelers to big investors like Blackstone, Morgan Stanley and GIC and others that buy large fixed-income assets, such as IT parks," said a top executive of a US-based company approached by Unitech's bankers.

The sales process was expected to take a few months, as the prospective buyers were evaluating the project and were likely to put in their bids in a couple of months, the executive said.

When contacted, a Unitech spokesperson declined to comment. He said: "As a company policy, we do not comment on speculation." Morgan Stanley and Blackstone could not be contacted for comments.

Unitech Corporate Parks (UCP), promoted by the Unitech group's Chandras and listed on London's Alternative Investment Market (AIM), holds a 60 per cent stake in the SEZ, while real estate firm Unitech holds the rest.

According to media reports, the group had earlier been in talks with investors like Blackstone and Xander to sell the SEZ. "But those talks have not moved forward," said the head of a global consultant's capital markets arm.

The Gurgaon SEZ is expected to be completed this year, according to UCP's half-yearly report, released in June. Sources in the know said 75 per cent of the SEZ was leased out.

UCP is building six IT projects in Gurgaon, Noida and Kolkata in a joint venture with Unitech. The second SEZ in Gurgaon is expected to come up in March 2016. According to UCP, the six IT SEZs were valued by its valuer Knight Frank at £409 million (Rs 3,470 crore) in September 2012. The sale of the SEZ is part of UCP's strategy to exit the assets that are substantially leased out and completed.

"The Board is working actively on all future options for the company and ways to monetise the assets as those progress. We continue to believe that the maximum value for shareholders will be achieved by creating investments that are substantially physically complete and well let," Donald Lake, UCP's non-executive chairman, had said in December 2012.

Investors like Blackstone and GIC are investing more in low-risk, fixed-income assets, such as IT parks and SEZs. In fact, Blackstone has invested over $500 million in Indian IT parks, including DLF's Ackruti Info Parks and Eon Free Zone in Pune. GIC and Morgan Stanley, too, are said to be scouting for such investment options.