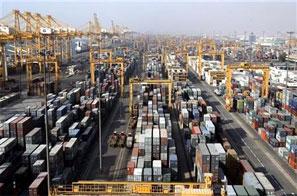 Industry body Assocham has sought tax incentives, market-linked tariff rates and grant of infrastructure status to the port industry in the upcoming Budget for turning India's coastline into a growth catalyst. Assocham batted for reduction in customs duty on import of equipment for port projects; exempting port projects from Minimum Alternate Tax (MAT) and granting infrastructure status to the port industry. A Public-Private Partnership (PPP) based-policy to encourage port development and management needs to be carved via BOOT (Build Own Operate Transfer) structures.
To generate ample private sector interest, there is a need to introduce market-linked tariff rates, noting that port development is bound to act as a propeller for export oriented industries. Coastal special economic regions (SEZs) /investment regions/ clusters along the lines of Chinese model of coastal development must be incentivized keeping in mind high income and employment multipliers of the sector, a specialised policy for port-tourism can be carved out. Assocham further advocated establishing India as a Tidal Energy hub to reduce dependence on coal and to meet future energy requirements.
Please click here for the Complete Coverage of Budget 2014 -15
Besides, firms related to other sectors including private security and small and medium enterprises (SMEs) have also put forth their suggestions for the upcoming budget. The government should strive to create a favourable environment for SMEs There is a need for reduction in the lending rates as SMEs continue to pay interest at 19-20% for bank loans.
Delayed payments have been an area of concern for SMEs that contribute to reduced working capital for SMEs. While observing that the private security industry is a sunrise sector, security company G4S India has proposed measures like increase in FDI limit, simplified taxation policy and categorisation of private security guards as skilled and highly skilled workers under the Minimum Wages Act. The government reduced foreign direct investment (FDI) limit from the earlier 100% to current 49% by introducing Private Security Agencies Regulation Act (PSAR).
---
Retailers seek official industry status
Retailers Association of India (RAI) has asked the government to grant industry status to the sector which is estimated to attain a size of Rs 47 trillion by 2017. According to RAI, it is high time the government takes this fact into account and accords an official status of industry, something most retailers have been expecting for a while now.
Industry status to retail will help all retailers as they will get financial sops from the government. Due to lack of industry status, retail sector faces difficulties in procuring organised financing and fiscal incentives.
Retailers are also expecting clarity on implementation time for the Goods and Service tax (GST) in the Budget slated to be presented on July 10. Currently, retailers set up their distribution channel based on tax structure in a state, but with GST implementation, retailers will look at distribution channel from distribution point. It will reduce wastage and improve efficiency of retailers.
---
IDSA asks govt to give more sops to MSME sector
Indian Direct Selling Association (IDSA) has asked the government to give more encouragement to the micro, small and medium enterprises (MSME) in the Union Budget. In a budget wishlist, IDSA has asked the government to create a conducive environment to attract more FDI in the country which will create more employment opportunities.
Incentives are needed for setting up of micro, small and medium enterprises in Tier II and Tier III cities to boost Trade and Commerce Activities in the region. It will create a competitive level playing field with other emerging economies. ISDA also asked for implementation of Goods and Services Tax (GST) reforms. ISDA further asked to stabilise price of food items, continue with the gas subsidy, provide more grants to the milk industry and modernize rice industry.
Powered by

Please click here for the Complete Coverage of Budget 2014 -15