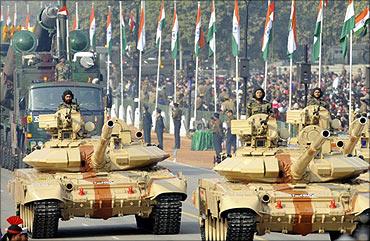 The dust over the controversy around foreign direct investment (FDI) in the defence sector appears to have settled.
Leading industry body, the Confederation of Indian Industry or CII, has finally taken a nuanced stand on liberalising the rules for FDI in defence equipment manufacture in the country, putting an end to the uncertainty over its overall approach to the issue.
After a bitterly fought meeting earlier this week, CII has recommended that FDI above 49 per cent be allowed only on case-by-case basis by the government and that too when technology transfer takes place.
And 100 per cent FDI should be allowed only when the products manufactured in such ventures are exported, according to the new stand by the industry chamber.
"CII believes 100 per cent FDI could be allowed to set up manufacturing plants in India for 100 per cent export purposes," said CII President Ajay Shriram in a letter to Finance Minister Arun Jaitley on Saturday.
He said those manufacturing units could be set up in special economic zones, national manufacturing and investment zones.
For FDI above 49 per cent, the letter said, "This could be considered on a case-to-case basis, based on the level of technology which the investor is willing to transfer to India."
This is necessary as critical technologies are controlled by governments and any increase in the FDI limit should be linked to the extent of technology transfer. Till 49 per cent, CII is in favour of allowing FDI through the automatic route.
The letter followed a stormy meeting of CII earlier this week. The meeting, chaired by Bharat Forge chief Baba Kalyani, had overruled co-chairman Nikhil Gandhi, of Sea King Infrastructure Ltd (SKIL), who wanted foreign companies to be automatically permitted majority stakes in Indian defence firms.
At a meeting between senior ministry of defence (MoD) officials and industry bodies, Gandhi had recommended on behalf of CII that 51 per cent FDI be allowed through the automatic route, with higher FDI permissible in cases where high technology was being brought into India. In fact, Shriram had said on June 10 that foreign investors could be allowed "majority equity" since FDI in defence would raise manufacturing growth.
That position has been changed now.
Gandhi's stand had led to defence majors like L&T and Bharat Forge expressing their reservations to Shriram.
With this, CII has closed ranks with another industry chamber, Federation of Indian Chambers of Commerce and Industry (Ficci). Earlier this month, Ficci had cited the "strategic nature" of the defence industry to place stringent conditions on FDI above 49 per cent.
"Exceptions for FDI even up to 100 per cent should be allowed as exceptions, on a case-to-case basis, in cases such as aircraft engines, advanced missile guidance systems, seekers, production of smart materials, high-strength carbon fibre," Ficci had said.
It said that 100 per cent FDI in these areas could be justified only by volumes available through integration with the global supply chain of original equipment manufacturers.
India still imports over 70 per cent of its defence requirements from abroad. According to the Department of Industrial Policy and Promotion (DIPP), a meagre $4.94 million of FDI has come in the defence sector in the last 14 years.
CHANGING POSITIONS
CII junks its earlier proposal of allowing up to 51% FDI in defence through automatic route
Chamber president writes to FM, says allow FDI above 49% only when there is technology transfer
FDI up to 100% can be allowed when the production is exported, says the letter
At present, FDI in defence is allowed up to 26%; beyond that Cabinet committee on security decides on case-by-case basis
Cabinet tried last year to raise FDI cap from 26% to 49% but then defence minister A K Antony opposed the move
DIPP, under Modi govt, has moved a Cabinet note to raise FDI up to 49% without technology transfer and beyond that with technology transfer