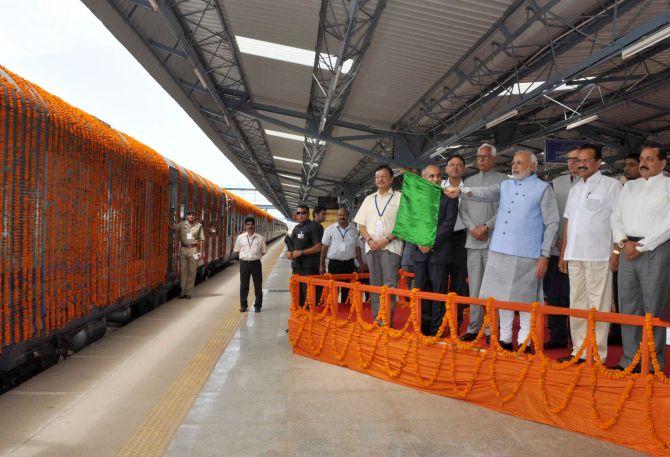 Hailing the Railway Budget as "futuristic and growth-oriented", Prime Minister Narendra Modi on Tuesday said it is for the common people as it aspires for better service, speed and safety with focus on development of the country.
He said the Rail Budget presented in Parliament by Railway Minister Sadananda Gowda shows where his government wants to take India through the railways as it focusses on strengthening institutional mechanism, transparency and integrity.
"Congratulations to the Railway Minister for presenting a futuristic & growth oriented budget. It is a budget for the common people," Modi tweeted.
He said the Rail Budget "aspires for better service, speed and safety. It is an effort to create a modern Railways contributing towards a developed India."
In a series of tweets, Modi said, "Rail Budget shows the important role of Railways in India's development journey." He said the Budget keeps in mind the development of India.
"This Budget shows where we want to take the railways and at the same time where we want to take India through the railways," Modi said, adding, "We can see the great use of technology also."
Meanwhile, Opposition parties on Tuesday slammed Narendra Modi government's maiden rail Budget, variously describing it as 'illogical' and 'disappointing' after claiming it had overlooked large parts of the country.

The Congress party latched on to the Rail Budget to claim there was a "capitalist" tilt to the functioning of the Narendra Modi government and that it was bent upon privatising the railways.
Looking to put the NDA dispensation in the dock over rail budget 2014-15, Congress not only protested inside Parliament but also held an agitation outside the residence of Railway Minister Sadananda Gowda.
Former Railway Ministers were not on the same track as incumbent Sadananda Gowda, calling the Rail budget "pro-rich" and a " Modi gadget" which has nothing new to offer.
As Gowda's predecessors picked holes in his maiden Rail budget, Trinamool Congress supremo and West Bengal Chief Minister, a former Railway minister herself, slammed the Centre, saying her state has been "deprived" and "insulted" by the Narendra Modi government.
The Leader of Congress in the Lok Sabha Mallikarjun Kharge, who was succeeded by Gowda, said the first budget of the BJP-led NDA government is bereft of any new scheme, plan or railway line and seeks to please the home state of the Prime Minister -Gujarat.
"(The NDA) government's direction for the country is diametrically opposite to that of the socialist path. Everything is being done to appease the capitalists. Social obligations of our (previous UPA) government have been criticised as if we'd committed a mistake in following them.
"We apprehend that the government is heading more and more towards privatisation," Congress MP and former Minister of State for Railways Adhir Ranjan Chowdhury told reporters at an AICC briefing.
Slamming the rail budget, he said further, "We are not averse to the PPP model. It was conceived by us. We are not even averse to private sector (investment) in railways, but here you have specific segments like parcel freight being identified for privatisation. It is the high- earning areas that are being offered to private investors.
"We do not have any objection to FDI, but I wonder why it is required when you are talking about surplus investible funds from PSUs to be used for the creation of infrastructure. I take pity on them."
Chowdhury will be the first speaker from Congress to speak on the Railway budget when discussion is taken up over the same on Wednesday.
Terming the rail budget "lacklustre", he said it has "disappointed" people. Rail minister Gowda was "busy belittling the achievements of UPA government" instead of outlining his ministry's plans, Chowdhury further claimed.
"We have not found any roadmap for the future, any long-term perspective or any clear vision for the railways in this budget. It is abundantly clear from the rail budget that the government is talking much and executing little," he said.
Chowdhury said that despite its high-octane propagandising since coming to power, the NDA government's budget was insignificant in content.
"The highfalutin propaganda of the NDA government has fizzled out. It pitched for energy conservation but there is no word on electrification. Railway budget emphasises safety and security as its focus areas, but there is not a word on any anti-collision device," he said.
Former rail minister Mallikarjun Kharge has said that the budget is bereft of any new scheme, plan or railway line and seeks to please Gujarat, the home state of the Prime Minister.
"This is a PPP (Pubic-Private Partnership) and FDI budget, not a railway budget. The budget has nothing for the poor. It's a pro-rich budget. The budget has nothing new to offer. There is no new scheme, no new plan and no new railway line.
"They have themselves admitted that it is a plan holiday. When they are not going to give anything, what is the point in talking about it," Kharge told reporters outside Parliament.
Meanwhile, terming the rail budget "useless", scores of Congress workers led by the party's Delhi unit chief Arvinder Singh Lovely staged a protest outside Gowda's 1, Tyagraj Marg residence in New Delhi.

Photograph: Prime Minister Narendra Modi and Railway Minister Sadanand Gowda flagging off first train from Katra.
Courtesy: PIB
Please click here for the Complete Coverage of Budget 2014 -15