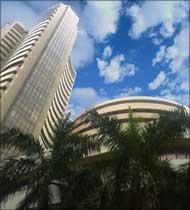 Markets ended lower, amid a volatile trading on Thursday, as investors booked profits at higher levels even as the Finance Minister Arun Jaitley in his maiden budget focussed on stimulating economic growth.

The 30-share Sensex ended down 72 points at 25,373 after moving in a 800-point range and the 50-share Nifty ended down 17 points at 7,568 after moving in a 252-point range.

Finance Minister focussed on reviving structural problems of the ailing economy.

He added, fiscal prudence will lead to fiscal consolidation and aimed at a sustained growth of 7-8 pct in next three-four years.

The fiscal deficit for the current financial year (2014-15) was seen at 4.1% of GDP and 3.6% for the next financial year (2015-16) and further lower at 3% in FY17.

The Indian rupee extended losses and was trading at Rs 59.92 compared to the previous close of Rs 59.75.

Asian markets ended mixed with Shanghai Composite nearly unchanged, Hang Seng was up 0.2%, and Straits Times was up 0.2%. The Nikkei ended down 0.56% at 15,216.47.

On the personal taxation front, the personal income tax has been hiked to Rs 2,50,000 from Rs 2,00,000 while for senior citizens the tax limit has been hiked to Rs 3,00,000 from Rs 2,50,000.

The Budget has also proposed hike in investment under 80C to Rs 1,50,000 from Rs 1,00,000 and exemption on self occupied property to Rs 2,00,000 from Rs 1,80,000 earlier. The PPF limit has also been hiked to Rs 1,50,000 from Rs 1,00,000 earlier.

Top Sensex losers were TCS followed by auto and private bankers. Tata Motors, M&M, Hero MotoCorp and Bajaj Auto ended down 0.8-4% each.

ITC ended up 0.3%. The budget proposed a hike in excise duty on cigarettes and related products to be hiked by 11-72%.

Realty, Power and Capital Goods indices were the top sectoral gainers on the BSE.

Meanwhile stock specific section was seen following the Budget proposals related to the sectors.

Metal shares gained following import duty on flat products. Tata Steel ended up 0.6% and Jindal Steel gained 1%.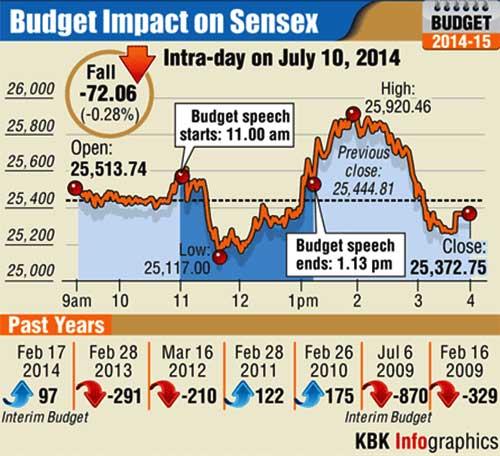 Shares of real estate companies ended higher after the Finance Minister Arun Jaitley proposes to increase interest cap limit to Rs 2 lakh from Rs 1.5 lakh on self-occupied houses and the proposal to set up real estate investment trusts.

DLF, DB Realty, Prestige Estates, Housing Development and Infrastructure (HDIL), Indiabulls Real Estate and Phoenix Mills ended 4-5% higher.

IRB Infrastructure Developers ended higher by 4.2% after the Finance Minister proposed investments of Rs 37,500 crore in highways and roads.

In a big relief to the capital-starved private insurance sector, Finance Minister Arun Jaitley today proposed raising the Foreign Direct Investment (FDI) cap from 26 % to 49 %. Max India gained 0.6% at Rs 297.

However, fertiliser companies trimmed gains despite the proposal for new urea policy. FACT, RCF and National Fertilisers ended lower. However, Gujarat State Fertiliser ended up 3.5% at Rs 79.

Thomas Cook ended up 3.4% while Cox & Kings emded 0.1% lower following the proposed e-visas to boost tourism.

The Finance Minister also proposed measures and allocated Rs 500 crore towards rural power. PFC, Tata Power and NTPC ended up 0.3-4% each.

Jain Irrigation ended up 1% at Rs 75 following the proposed allotment of Rs 1,000 crore towards irrigation scheme.

The foreign direct investment in defence has been raised to 49%. BEL ended down 6% at Rs 1,841 while Astra Microwave ended 2% lower.

The Budget has also proposed hike in FDI in insurance sector to 49%. Bajaj Finserv ended up 1.2%, and Aditya Birla Nuvo ended up 2.4% at Rs 1,364.

State-owned banks ended lower after the proposal to sell shares. He also proposed that Rs 2,40,000 crore need to be infused in the banking sector by 2018 to meet global Basel III norms.

Bank of Baroda, PNB and SBI ended down over 1% each.

The Finance Minister also stressed the need to revive the infrastructure and need for Public Private Partnership (PPP) to develop world class convention facility. L&T ended up 0.3%.

BHEL which manufactures coaches for metro rail ended tad higher after the proposed allocation of Rs 100 crore towards metro projects in Lucknow and Ahmedabad.

Container Corp ended up 3%, Gateway Distriparks gained 0.2% on allocation of Rs 5,000 crore to increase warehousing capacity.

Pune-based companies gained on the proposed infrastructure corridor. Kolte Patil ended up 5.8% and Bharat Forge ended up 3%.

The plan to increase the gas pipeline grid by 15,000 kms also augured well for gas distributors.

Indraprastha Gas ended down 0.6%, Gail India ended up 1.5%.

Bata India ended up 3.9% and Relaxo Footwear ended up 5.5% following the cut in excise duty on footwear to 6%.

Gems and jewellery stocks are trading lower by up to 3% in otherwise firm market after the federal government kept gold import duty unchanged at a record 10% in the budget. P C Jeweller, Tribhovandas Bhimji Zaveri (TBZ), Gitanjali Gems, Titan Company, Shree Ganesh Jewellery House and Tara Jewels ended down 1-3%

In the broader market, the BSE Mid-cap index ended up 0.6% and the Small-cap index gained 0.8%.

Market breadth ended strong with 1,625 gainers and 1,250 losers on the BSE.