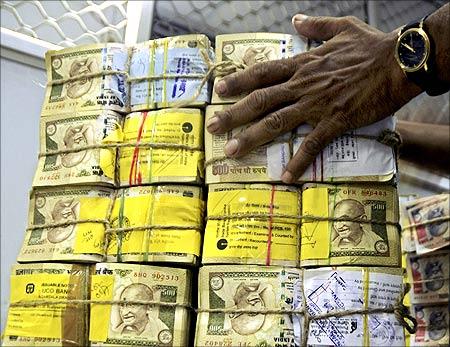 Finance Minister Arun Jaitley set the target for capital receipts from disinvestments for the current financial year to Rs 58,425 crore (Rs 584.25 billion).
This is 12.5 per cent higher than the target of Rs 51,925 crore (Rs 519.25 billion) set by his predecessor P Chidambaram in the interim Budget in February.
Please click here for the Complete Coverage of Budget 2014 -15
Jaitley aims to get Rs 63,425 crore (Rs 634.25 billion)from miscellaneous capital receipts, comprising disinvestments of the government's stakes in central public sector enterprises (CPSEs), equity in non-government entities and in the Central Public Sector Enterprises Exchange Traded Fund.
The target announced is 13.6 per cent higher than that set last year and 145.4 per cent higher than the revised target for 2013-14.
This year's target has Rs 43,425 crore (Rs 434.25 billion) from the sale of stake in CPSEs and another Rs 15,000 crore (Rs 150 billion) from the sale of residual stake in erstwhile government companies, including stake sale by Specified Undertakings of the Unit Trust of India (Suuti) in firms like Axis Bank.
While a five per cent stake sale in Steel Authority of India Ltd is on the cards, the disinvestment department is also looking at 10 per cent stake sale in Coal India.
A Cabinet note has also been floated with a proposal to sell five per cent equity in Oil and Natural Gas Corporation, which could add about Rs 17,000 crore (Rs 170 billion) to the government coffer. Another 10.96 per cent stake in NHPC is also likely to be sold.
There are also plans for stake sale in Power Finance Corporation, Hindustan Zinc, Balco and Rural Electrification Corporation. From the CPSE Traded Fund, the government is likely to get about Rs 5,000 crore (Rs 50 billion) this year.
With Securities and Exchange Board of India pushing for a minimum of 25 per cent public holding in public sector units within three years, the government is expected to raise about Rs 60,000 crore (Rs 600 billion) from the sale of shares in about 36 listed ones where the public shareholding is less than this.
While the government, in each Budget, sets ambitious targets for capital receipts from disinvestment, it does not always succeed in meeting these.
Since 1991-92, it has crossed the targeted capital receipts from disinvestments only four times – in 1991-92, 1994-95, 1998-99 and 2003-04. In 1999-2000, when Jaitley held independent charge of the department of disinvestment, the government was able to garner Rs 1,860 crore (Rs 18.60 billion) against the target of Rs 10,000 crore (Rs 100 billion), lowest in terms of percentage of Budget target since 1997-98. In the 23 years since 1991-92, the revenue from disinvestments has been Rs 1.52 lakh crore (Rs 1.52 trillion).
Proceeds from disinvestment help the government to lower the fiscal deficit, which was 4.5 per cent of the gross domestic product in 2013-14.
The target is to bring it down to 4.1 per cent this year. Retail investors view disinvestment as a positive step. "The disinvestment target of Rs 63,000 crore (Rs 630 billion) is certain to keep the Indian capital markets buzzing and provide excellent buying opportunities for retail investor," said C Parthasarathy, chairman, Karvy Group.
Rating agency Fitch, however, has a more cautious projection. "It remains to be seen how the government would react to a shortfall in tax or divestment revenues, if that happens," said Andrew Colquhoun, head of its Asia-Pacific sovereign.
Please click here for the Complete Coverage of Budget 2014 -15