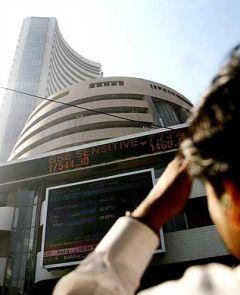 Finance Minister Arun Jaitley tabled the Budget in the Parliament on Thursday.

Does this Budget augur well for the Indian markets?

What effect will the Budget have on the Sensex and the Nifty?

Is it the right time to invest in equities?

Should one buy, sell or hold?

In a live chat on rediff.com held on Friday, July 11, well-known equity specialist Devang Mehta discussed what effect the Budget will have on the stock markets -- from how NOT to lose money in the markets to which are the safest stocks.

Here's the transcript:

Niharendu Choudhury: sir i have ongc @ 458 should i average right now

Devang Mehta: If you want to add something in Oil & Gas, pls add Oil India

Sudipto Chakrabarty: Sir can I enter TATA POWER now, what will be the tgt price after one year

Devang Mehta: Rather than Tata power, i will suggest infra & power financing companies like REC & PFC for a one year horizon

Niharendu Choudhury: it is right time for fresh entry in tata steel

Devang Mehta: yes, you can start buying tata steel

Thirunavukkarasu Annamalai: GOOD AFTERNOON SIR. COULD YOU ADVICE ON A GOOD MUTUAL FUND FOR BLUE CHIP SIP INVESTMENT.THIRU

Devang Mehta: Franklin Templeton Bluechip , HDFC Top 200, ICICI Pru Focused Bluechip, SBI Bluechip

Ponangi Srinivasarao: I have a Yes Bank @ 557. what is the target

Devang Mehta: We like the stock fundamentally. We have a price target of 625

Rajiv Rajput: SIR I AM HAVING BHARAT ELECTRONICS AT THE RATE OF Rs 2280 should i hold it or sell it please reply. . .

Devang Mehta: Hold for long term

Biswajit Chattaraj: I have a Britannia 24@1001, can I hold and also I can by SBI at current price

Devang Mehta: Hold Britannia & you can buy SBI at current levels for a one year horizon

Suneel Singh: Dear Sir I have some investment in MF/SIPs ,yesterday FM said holding time will be now three years ,This valid for old also or will be applicable MF/SIP which will be purchase onwards

Devang Mehta: Government has proposed the below changes in the Union Budget 2014 -15 that would impact debt mutual funds:
• The long term capital gains tax (LTCG) rate has been increased from 10% to 20% for debt Mutual Funds
• The holding period too has been increased from 1 to 3 years to classify as long term capital asset for debt mutual funds.

Atanu Jana: Good afternoon. Want to invest long term. pls advise some stocks and mutual fund for SIP.

Devang Mehta: Stocks like ICICI Bank, BOB, L&T, Hindalco, REC, Rallis, UPL, Bajaj Corp, Tata Motors, Sun Pharma look good for investment.

Nitin Talreja: what your view on creating 100 smart cities, will stocks like Dlf, Godrej industries are worth investing over long term

Devang Mehta: We feel, rather than going in for real estate stocks, housing finance companies like HDFC, LIC Hsg Fin, GIC Hsg etc are safer bets & offer good valuation & price upside.

Also proxy paly can be stocks like Kajaria Ceramics & Cera. Asian Paints can also be a beneficiary.

Biswajit Chattaraj: I have emami 230@504 can I hold

Devang Mehta: Hold, Emami is one of our top pick. A price target of Rs 580 is possible for the stock

Anand-Kothari: The NIFTY has breached the support levels twice in as many days. Are we heading for a free fall from here? or it is just the corrections we are witnessing?

Devang Mehta: Seems like a correction. Normally market has a tendency to correct after major events. Be stock specific & you will do very well

Niharendu Choudhury: i have tata steel @ 585 can i hold

Devang Mehta: Please hold Tata Steel for long term, one of the better stocks in the metal universe

DEBASHISH PATTNAIK: how the cement stocks would perform - ACC / ultratech?

Devang Mehta: Positive for the cement & building materials sector, withgreater emphasis on implementation of GST and credit available fromNHB.

Dananjaypuri: What impact do you think the Budget will have on the equity markets?

Devang Mehta: The union budget is low on big-bang measures, but pragmaticand functional.

It aims at fiscal discipline, greater role of theprivate sector and a cooperative govt-corporate relationship.

Innovations in infra funding and recognition of small industriesare refreshing. Despite some unmet expectations, this budget,prepared in a short-time, offers hopes.

Kaushal: Is it the right time to enter the equity markets?

Devang Mehta: yes, it is, time & not timing is the key to equity investing...

Romil: The markets have been volatile ever since the Budget was announced. Should one buy, sell or hold?

Devang Mehta: All investors who felt that we have missed the bus were eagerly awaiting a fall.

Now the fall has come, which seems to be a round of profit booking, which can happen in every bull market, so keep a list of good stocks handy & start buying

Kapadia: Please name a few good infra stocks

Devang Mehta: L&T with its excellent balance sheet size, robust order book size, geographical & segmental diversification offers substantial valuation & price upside in the longer term

Bhanu: The finance minister has stressed on infrastructure and agriculture. Is it the right time to invest in these stocks?

Devang Mehta: Yes, select infra, capital goods & agri based themes will do very well in the medium to long term, worth buying on all dips

Shaishav: I am going to retire at the age 66 years next year. I want to invest in the equity market up to Rs 5000 in a monthly scheme for 3-5 years. pls advise

Devang Mehta: Hi, invest in good diversified or large cap equity mutual funds via Systematic Investment plan.

Equities will provide very god returns over the 5 year period & this will average out your buying

Dushyant Arya: Hi devang Morgan Stanley is estimating sensed to be at around 28000 next year after the budget .a what is your own personal view. Do you think equities will perform well in the long run and what is ur assessment of equities over 3 years

Devang Mehta: Hi Dushyant, i feel that markets are interestingly poised at the current juncture with a stable government in power & macroeconomic parameters bottoming out.

Equity will have a structural bull run for another 3 to 5 years & will outperform other asset classes. . .