The problem of unemployment is spread across the economy.
Somesh Jha reports.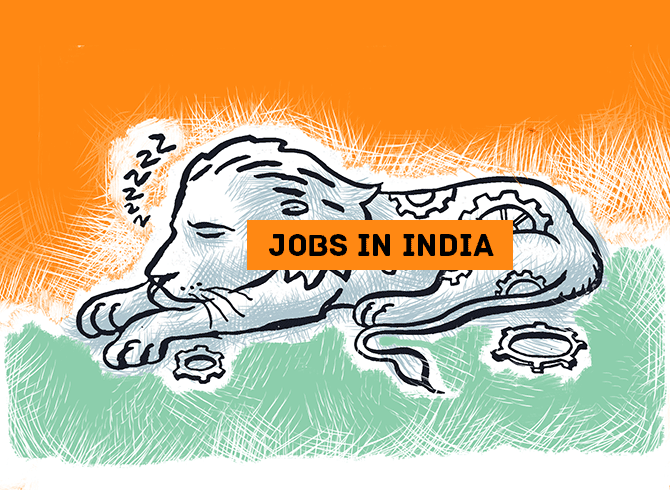 There was a jump in the unemployment rate across major religions and social groups in 2017-2018, according to the National Sample Survey Office (NSSO)'s latest household survey on jobs.
The unemployment rate rose the sharpest among Sikhs (ranging from 2 to 5 times in urban and rural areas), followed by Hindus whose joblessness rate doubled in cities and tripled in the villages, in 2017-2018, compared to 2011-2012.
The unemployment rate among Muslims more than doubled, even as that among Christians also rose across the country during this period.
The unemployment rate was falling for all the major religious groups in the urban areas in 2011-2012, compared to 2004-2005.
In the caste-wise break-up, among rural males, the highest spike in unemployment was among scheduled tribes and among rural women in the general category.
In the urban areas, the rise in unemployment rate was the most for scheduled castes among women and the highest for OBCs (Other Backward Classes) among men.
"The high unemployment rate among SC men could be because of the attack on traditional livelihood avenues of some Dalit castes who work in the leather and meat industries," says Ashwini Deshpande, professor of economics at Ashoka University.
The labour force participation rate (LFPR) -- the proportion of people working or in search of work -- fell for all major religious and social groups.
Compared to 2011-2012, the biggest fall in the LFPR was witnessed among Sikhs, by 4.8 percentage points, to 36.2% in 2017-2018, followed by Christians (by 3.4% to 39.2%).
"The usual trend is that those belonging to richer communities, such as Christians and Sikhs, usually have a higher unemployment rate as they go in the market and seek work. Poorer communities cannot afford the luxury of remaining unemployed," says Himanshu, associate professor at Jawaharlal Nehru University.
The problem of unemployment is spread across the economy, he says, if one considers the religion-wise and social-group wise break-up, and is not affecting any particular group.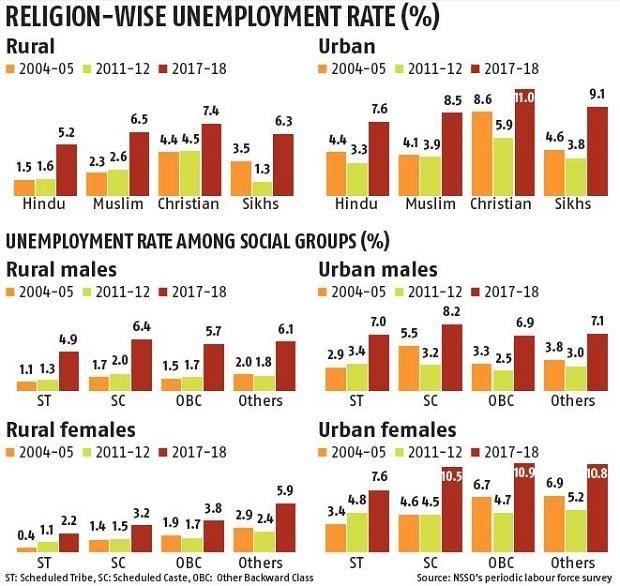 Among social groups, the unemployment rate was the most among urban females in the general category (10.8%), followed by urban males in the same category (7.1%).
"Demonetisation affected the informal sector massively and the marginalised sections of the society got naturally affected. The gap in the unemployment rates is narrowing in rural and urban areas, though it is still lower in the former," says Santosh Kumar, assistant professor at Shri Ram College of Commerce.
The findings are a part of the NSSO's periodic labour force survey -- the first annual survey on employment-unemployment in the country -- conducted between July 2017 and June 2018.
The government has termed it a draft report, though the National Statistical Commission has given its approval to it in December.