Delhi Stock Exchange's (DSE) struggle to end its life without hurting the diverse interests of its multiple stakeholders will continue into another year.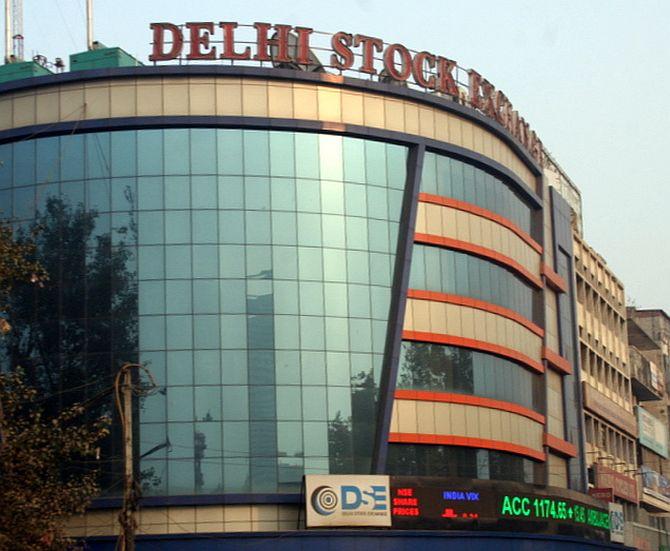 Image: The Delhi Stock Exchange. Photograph: Courtesy, Ramesh Lalwani/Creative Commons
At its 67th annual general meeting (AGM) last week, broker shareholders defeated a resolution to allow the current chairman, Mahendra Nath Verma, to continue beyond the end of his term in January.
The impending vacancy has created more uncertainty around the process of closing the exchange and fair distribution of assets.
The broker shareholders, keen to protect their interests, have called for a meeting on Friday to decide on further action.
They will try to decide on issues such as calling an extraordinary general meeting and appointing their own representative on the board of directors.
At the AGM, the management had moved a resolution seeking to amend the bourse's articles of association which bar directors from holding office beyond consecutive terms.
The resolution got about 65 per cent votes in favour, short of the three-fourth majority required for change.
Verma, on the governing board as a public interest director since December 2010, had in May joined the board of Parsvnath Developers, the realty company with 4.95 per cent in the DSE.
This has not gone down well with the broker shareholders.
One of them said this could be one reason for defeat of the resolution.
A clutch of institutional investors, corporations and media companies had taken minority stakes in the bourse as part of its demutualisation programme.
Apart from Parasvnath, New Vernon Private Equity, EHL EasternHoldings, Wilmette Holdings, Financial Technologies, Bennett, Coleman & Co and LFP DSE all hold about 4.95 per cent stake each.
TV18 Broadcast and Nahar Capital own 2.97 per cent and 2.47 per cent, respectively.
An ordinary resolution to reappoint shareholder-director Venkat Rao went through.
Rao is a senior executive of Omaxe. A profile on the Omaxe website said Rao was additional vice-president and company secretary and as a shareholder-director of DSE was "involved in the current strategy of exit from the business of stock exchange and driving the exchange to an alternate business."
In FY 15, the bourse had a profit after taxation of Rs 3.96 crore.
Trading stopped a few years earlier and most of the earnings came from interest income.
It earned around Rs 8 crore in interest and Rs 2.3 crore in listing fees.
Though the 68-year-old exchange has lost its way in the core business, the prime real estate it is sitting on in the capital has kept investors interested. Realty entities such as Parsvnath and Omaxe hope to unlock the potential of these holdings.
Shareholders said DSE owns two buildings on Asaf Ali Marg, one near Ramlila Maidan and another near Delite Cinema.
"It also owns three (commerical) flats in Bhikaji Cama Place and one in Laxmi Nagar. Independent valuation reports done a few years ago had put the value of these assets at Rs 250 crore," a broker shareholder said.
Institutional shareholders, who have been playing a waiting game, are also losing interest. A couple of them had sent their representatives to observe the developments at the AGM.
The exchange had initiated a voluntary closure process by surrendering its licence in November last year.
The Securities and Exchange Board of India (Sebi) had passed an interim order of derecognition.
Sebi had in the order alleged various irregularities and defaults by the exchange and its management, including in the demutualisation process.
Following this, DSE petitioned the Securities Appellate Tribunal (SAT). While there have been a few hearings, Sebi is yet to file a response.
The matter will next come up at SAT on November 24.
Meanwhile, DSE met Sebi officials and requested them to allow the voluntary exit route.
"Sebi has indicated acceptance to the request and advised (us) to transfer statutory funds to it," Verma said in his chairman's speech at the AGM.
Accordingly, the exchange has transferred about Rs 40 crore.
This included the "customer protection fund, investor services fund and one per cent security deposit available with the exchange".
DSE has also transferred 1,371 companies which were exclusively listed here to the dissemination board of BSE.
The broker shareholder quoted earlier said, "The management has transferred the amount. But, there is still no assurance from Sebi on whether they would allow the voluntary route. Other exchanges transferred only after the application was accepted." Brokers are also expecting clarity on the turnover fee Sebi has asked the exchange to pay.
Brokers have disputed this claim, of over Rs 25 crore along with interest, according to Sebi calculations. "The board of directors have also deliberated on the exchange liability in this regard and have taken note of the legal view that DSE could not be fastened with such liability."
"It has accordingly requested Sebi to withdraw the claim in respect of brokers' turnover fee. The Sebi reply is still awaited," Verma had said at the AGM.
Struggling very hard
Delhi Stock Exchange's (DSE) struggle to end its life without hurting the diverse interests of its multiple stakeholders will continue into another year
The broker shareholders have called for a meeting on Friday to decide on further action
They will try to decide on issues such as calling an extraordinary general meeting and appointing their own