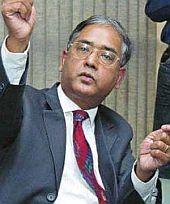 U K Sinha, chairman of the Association of Mutual Funds in India, has been named the new chairman of the Securities and Exchange Board of India.

Sinha will take over on February 17 next year when incumbent C B Bhave's term ends.

Bhave took charge as Sebi chairman on February 18, 2008 on a three-year term. However, the terms of chairman and whole-time directors at Sebi have been increased to five years since then. Similarly, the terms of RBI and insurance watchdog IRDA's chiefs have also been increased to five years.

Sinha, a former IAS officer of Bihar cadre (1976 batch), had lost out in the race the last time when the Prime Minister's Office preferred Bhave over him.

According to media

reports, Sinha quit IAS when he was holding the rank of an Additional Secretary to the Government of India and continuing on deputation with UTI.

But after quitting civil service, he was given another five-year term as CMD, not as a government nominee, but as the choice of the stakeholders of UTI AMC. State Bank of India (SBI), Bank of Baroda (BOB), Life Insurance Corporation (LIC) and Punjab National Bank (PNB) are the promoters of UTI AMC.

Sinha earlier held key positions in the Government of India, notably in the Ministry of Finance, where he was the Joint Secretary, looking after capital markets, external commercial borrowings, banking and currency and coins.

During his tenure at the ministry, he spearheaded several initiatives, such as banking and capital market reforms.